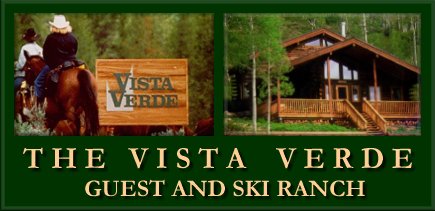 Vista Verde is a dude ranch and much, much more! We're a strap-on-your-saddle, kick-back-'n-relax, taste-tantalizing, mouth-watering, get-in-touch-with-nature kind of place - a 500-acre western vacation escape in Rocky Mountain High Country, surrounded by national forest, and a long, long way from what our guests call the everyday grind. We're also a little bit of luxury in a land of saddles, spurs and sagebrush.

Vista Verde style is first class and friendly, whether our guests select to stay in a private cabin or deluxe lodge room. The cabins include one, two or three bedrooms, a living room, bathrooms, and snack bar. Our spacious lodge rooms offer comfort and convenience with a sitting area, snack bar and balcony.

At Vista Verde, you'll enjoy three bountiful meals per day, prepared by our talented, award-winning chefs and served in our inviting lodge, on the sun deck or on the trail.
Be it summer or winter, we have many different activities and adventures can be part of your Vista Verde vacation. In summer, there's horseback riding, hiking, biking, fly fishing, whitewater rafting trips, kayaking, rock climbing, and more! In winter, enjoy track skiing, backcountry skiing, snowshoeing, horseback riding, and sleigh rides, at the ranch. There's dog sledding, snowmobiling, and downhill skiing, nearby. Or, just kick back, read a book, and soak in your hot tub.
If you're looking for a wild, wonderful, wide-open, well-fed, whitewater, whip cracking, wintry, warm-fire woodsy, wapiti-filled, wine-tasting, whale-of-a-time western adventure, come to Vista Verde!