Click an area to view all listings.
Vacation Accommodation
Grand Pines Resort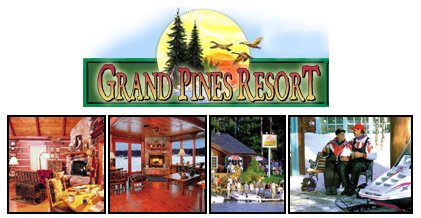 Grand Pines Resort, Home of the Original Famous Dave's, is Hayward, Wisconsin's premier year-round resort.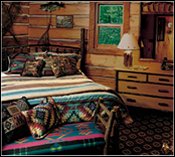 Get back in touch with the quietness of nature... Grand Pines Resort will attract you with its friendly charm, evoking fond memories of yesteryear.

Soak up the beauty of the great northwoods from our patio with a million dollar view overlooking Big Round Lake, or cozy up inside and enjoy an evening of good cheer with friends!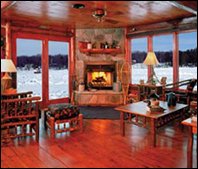 Luxurious cabins uniquely combine nostalgia with a touch of class. Rustic cabins are nestled in the woods and feature cozy interiors with stone fireplaces to take away the evening chill, whirlpool baths to soothe the soul, central air, a full kitchen, and a pontoon boat available with each rental.


Choose from one, two, and three-bedroom single story cabins and three-bedroom loft cabins. Motel rooms are also available.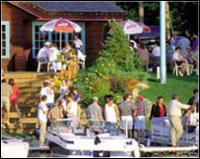 The Original Famous Dave's restaurant offers an outstanding northwoods dining experience on the shores of beautiful Round Lake.

Walk in and you'll see smiles, antiques, collectables, cookbooks, and rustic log architecture. Sit down and overlook the cleanest, clearest lake in northern Wisconsin, while enjoying our speciality, a BBQ Feast for Two or Four.

Grand Pines Resort
9993N Grand Pines Lane
Hayward, 54843
Phone: 715-462-3564
Toll free: (888) 774-3023
Email: Click here to send an email
Web: www.grandpines.com


Display location on map

Kinni Creek Lodge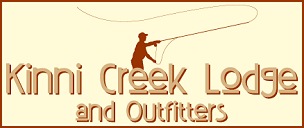 We invite you to experience the rustic casualness of Kinni Creek Lodge, a great vacation setting year round nestled near an area of whispering woods & privately located along 180 feet of scenic shoreline on the Kinnickinnic River, a Class 1 trout stream in the middle of River Falls.

Inside the lodge there are 3 guest rooms all outfitted with log furniture, private baths, TV/VCR's, and fireplaces where you can relax in a cozy "northwoods" atmosphere that will capture your heart, or relax fly fishing right outside! A full and scrumptious breakfast awaits you in the morning including coffee, tea, juice, and a hot entrée.

In the Ice House Lodge next door to the main lodge you may enjoy beverages and munchies while playing with games or puzzles.

Quiet and secluded just off Main Street, Kinni Creek Lodge caters to summer vacationers interested in bird watching, fishing, hiking, biking, canoeing, kayaking or just relaxing. We have a spa outdoors overlooking the river. Canoe and kayak rentals are available. In the winter, enjoy cross-country skiing and snowmobiling. Trails are just minutes from the inn!

Kinni Creek Lodge
Kinni Creek
xxxx
River Falls, xxx
Phone: (715) 425-REST(7378)
Toll free: 1-877-504-9705
Email: Click here to send an email
Web: www.kinnicreek.com


Display location on map

Waubee Lodge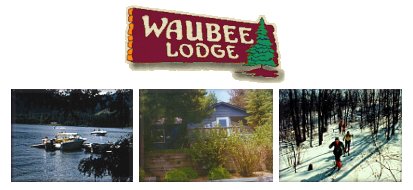 A multitude of activities are available throughout the year in the beautiful Nicolet National Forest. At Waubee Lodge, located in Lakewood Wisconsin, our lake setting is only a portion of our appeal. Enjoy lakefront cabins with fireplaces and screened porches, gracious dining, cocktail and karaoke bar, and more!

All our homes and cottages feature use of rowboat, canoe, paddle boat, all dishes, glasses, outdoor grills, microwaves, coffee makers, Color TV, VCR, picnic tables, and lawn furniture.


Waubee Lodge has one of the finest supper clubs in the area. We offer a full menu and our Saturday night Prime Rib is superb! We also offer a seasonal breakfast and a scrumptious Sunday Brunch. Our dining room overlooks beautiful Waubee Lake. After dinner, sing-a-long with us at our Karaoke machine. We feature songs for children as well as adults. Try your hand at some of the games in our game room!


Summer holds many activities at Waubee Lodge - you can water ski, fish, jet ski, and canoe on beautiful 140 acre Waubee Lake. There's scenic bike trails, hiking, golf, horseback riding, and two amusement parks nearby!



In winter, enjoy over 120 miles of snowmobile trails that run directly in front of the lodge. Snowmobile rentals are available locally. We have a 22 km cross-country ski trail just one half mile from the lodge. Ice fishing usually starts around mid-December, so don't forget your ice drill and tip-ups.


No matter what time of year it is, you can always enjoy the numerous gift, craft, and antique shops in the area as well as the Potawatomi Casino in Carter, just 12 miles from Lakewood.



Waubee Lodge
Waubee Lodge
xxxx
Lakewood, xxxx
Phone: 715-276-6091
Toll free: 1-800-4WAUBEE
Email: Click here to send an email
Web: www.waubeelodge.com


Display location on map

Totem Pole Lodge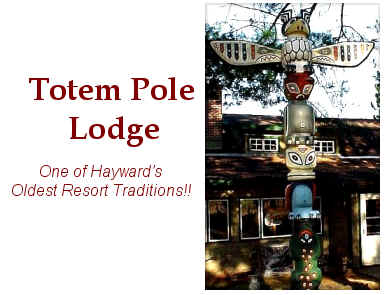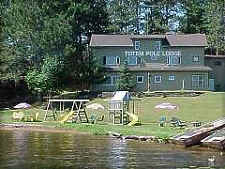 Located on Quiet Lost Land Lake in the heart of the Chequamegon National Forest, Totem Pole Lodge is family friendly resort.


Our traditional Northwoods Lodge, provides a spectacular overlook of Lost Land Lake, supplying the perfect backdrop for a cocktail, Friday night fish fry, or just sitting and relaxing.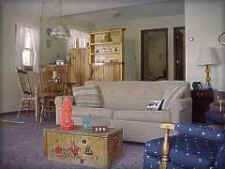 Our two and three bedroom cottages are fully furnished and equipped for you to enjoy the same comforts as in your own home. We provide in our cottages, bed linens, cooking utensils, glasses, dinnerware, coffee maker, toaster, microwave, and kitchen towels.


Outside you'll find a charcoal grill, picnic table, hand-crafted Adirondack chairs for your enjoyment, and of course a spectacular view of the lake.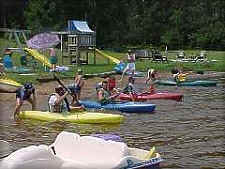 Additionally we provide a boat with every cottage, personal flotation devices, Lake Maps, a fish-house to clean your catch, and freezer service to store your catch. Motors are available for rent.


The lakes provide a traditional Northern Wisconsin fishery. Walleye, Largemouth Bass, Smallmouth Bass, Crappie, Northern Pike, and of course, "The King" of freshwater fish, the Musky abound.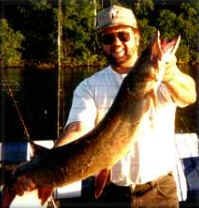 Located in our beach area is a children's play area. The swimming area has a gradual drop-off and sand bottom providing hours of water enjoyment for all.


Enjoy complimentary use of paddleboats, kayaks, canoes, and beach toys to our guests.



Totem Pole Lodge
Totem Pole
xxxx
Hayward, xxxx
Phone: (715) 462-3367
Email: Click here to send an email
Web: www.haywardlakes.com/totem.htm


Display location on map

Monaco Motel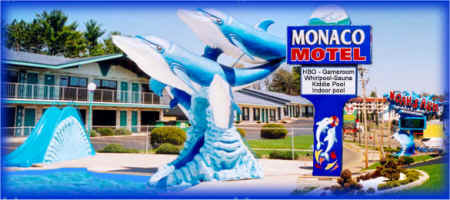 Monaco Motel is located right next to Noah's Ark, America's largest Waterpark!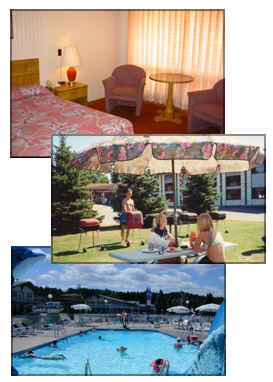 Our accommodations include single and double guest rooms, studio suites and family suites.


All rooms include a fridge, microwave, cable TV, HBO, air conditioning, and telephone. Laundry facilities are available.


Enjoy our indoor and outdoor pools with slides, whirlpool, toddler pool, game room, playground, and picnic area with grills.


Monaco Motel is located close to all attractions and restaurants.


Monaco Motel
Monaco Motel
xxx
The Dells, xxx
Phone: 1-608-254-7550
Toll free: 1-800-892-6542
Email: Click here to send an email
Web: www.monacomotel.com


Display location on map