The Year-Round All American Vacation


Peaceful Valley Ranch is one of the world\'s most beautiful vacation and conference resorts, and one of Colorado\'s oldest and largest guest ranches.

Nestled high in the Rocky Mountains, the area is filled with snow capped peaks, rushing rivers, and some of the most spectacular scenery anywhere on earth. We invite you and your family to join us for a week of western fun that you'll never forget!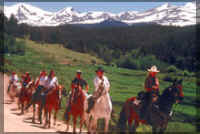 Come spend your summer vacation at beautiful Peaceful Valley Ranch!

With offerings of three night and six night packages, we\'ve created a program that you won\'t soon forget. Your package rates include all lodging, meals, and activities. From sun-up until well after sundown, we\'ll keep you and your family plenty entertained!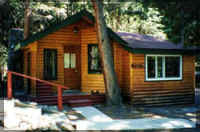 There is so much to do here! We have something for everyone, from young to old, timid to adventuresome.

Ranch activities include: horseback riding, hiking, fishing, climbing wall, dancing, 4X4 trips, square dancing, swimming, hot tubbing, nearby gambling, nearby golf, kids programs, hayrides, cookouts, talent shows, pack trips, game room, guest rodeos, exercise room, and in winter, snowshoeing, snowmobiling, and cross country skiing.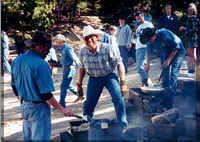 During spring, winter, and fall, we offer Bed & Breakfast or Full Meal packages (horseback riding and snowmobile rentals are extra).