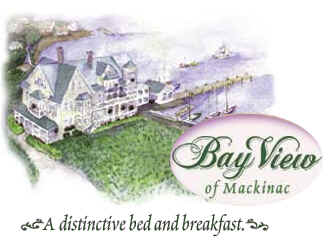 Come Back to yesterday, where grace, charm, and romantic, turn-of-the-century traditions are complimented by the special amenities of today.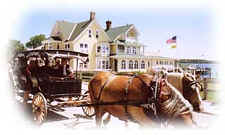 Built in 1891, sitting at the water's edge, Bay View of Mackinac Island still celebrates her original family heritage in the Grand Victorian style.


Each of the 19 guest rooms features its own spectacular seascape vista, true-to-period decor, a delicious hot breakfast and lovely private bath .



Amenities include: lovely private baths, air conditioning, televisions, private telephones, delicious hot breakfast with daily features, unlimited coffee breaks with bottomless mugs of our special Bay View Blend Coffee, afternoon & evening refreshments, and spectacular panoramic views you must see to believe. Executive/Bridal Suites are also available. Sweet Dreams!


Bay View creates the perfect setting for all your Mackinac Island memories; strolling the boardwalk, savoring that famous Mackinac Island fudge, shopping downtown, bicycling, golfing, swimming, horse-back riding, taking a carriage all over the island, or gazing at the Straits of Mackinac.