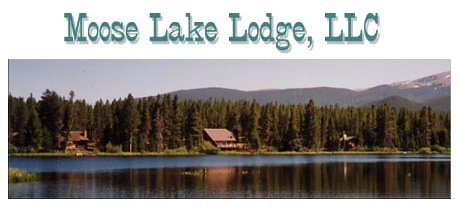 Moose Lake Lodge offers three lakefront vacation homes on the shores of Sun Valley Lake with spectacular lake and mountain views. In addition, we also have a beautifully furnished home set in the woods, only 200 feet from Sun Valley Lake, with lake access.

Our two, three, and four bedroom vacation homes are spacious and comfortable. Each of our lakefront homes has a wonderful sunny exposure, breathtaking views, and large furnished decks overlooking the lake. The Hummingbird House has a secluded woodland setting. All homes feature a fully equipped kitchen with microwave, telephone, barbeque, TV/VCR, and bed linens.

Sun Valley Lake is a secluded private lake 1/4 mile from Rocky Mountain National Park and just north of Grand Lake, Colorado. No power craft are allowed on the lake but canoes are provided for use at your own risk. Afternoon winds make sailing an exciting activity at the lake. There's great fishing too! Enjoy snowmobiling, cross-country skiing, and snowshoeing in the winter.

You'll want to make sure you have your camera and lots of film ready when you're staying at Moose Lake Lodge because Moose sightings can happen anytime!