Harbor Breeze Cruises has provided public Whale Watching cruises for the past 18 years. During each whale watching season. Our experienced Captains offer a comprehensive narration. During the Gray Whale season from December through mid-May our experienced staff will offer information about the characteristics of the Pacific Gray Whale and its annual migration from the Bering Sea in Alaska to the Scammon's Lagoon in Baja California, Mexico.



During the Blue Whale season from June through December you can expect to be educated on the Blue Whale's migration patterns, characteristics, and other interesting facts.



Come join the fun and excitement of viewing one of nature's most incredible mammals, the Whale. Groups who have taken whale watching excursions with Harbor Breeze Cruises have found their experiences to be enjoyable and educational.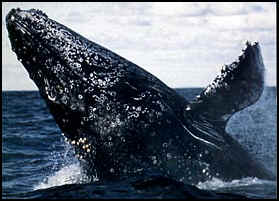 Our Whale Watching cruises include informative commentary, provided by an experienced staff and a biologist from the Aquarium of the Pacific. Also, in observing the Whales in their passage along the California Coast, we frequently spot dolphins darting back and forth, playing with the boat, and jumping in and out of the water.



Comfortable accommodations aboard our ships includes lounge areas where you may enjoy a snack or drink provided by our galley service. The ships accomodations also include lavatories, and expansive deck areas for viewing and photography.



Group reservations may be made over the phone and we accept purchase orders too. We advise you to make your group reservations as early as possible as dates begin to fill up rather rapidly as the migration season approaches.



A Harbor Breeze Cruises Whale Watching Trip is truly a memorable experience for all ages! Call for reservations or information. We'll be glad to hear from you, and we'll provide your group with the most comprehensive and informative Whale Watching cruise available.