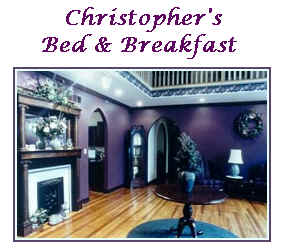 A mile from Northern Kentucky's bustling Newport on the Levee is Christopher's Bed and Breakfast.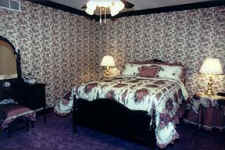 This ravishing 19th century former church that sparkles with jewel-toned stained-glass windows, three sumptuous Jacuzzi suites and sits grandly in the heart of the Bellevue historic district, Taylorís Daughters, in honor of General James Taylor.

Named for the patron saint of travelers, Christopher's was transformed from a place of worship to a place of winsome respite by the Guidugli family in 1996. Today, two junior jacuzzi suites with queen-size beds, stained-glass windows, and private baths charm visitors.


There's also a luscious Governor's Suite, radiating romance with its four-poster king-size bed, magnificent stained-glass window, cuddly living room, and two private "his and hers" half baths and shower, plus a two-person Jacuzzi that begs long massaging soaks beneath the room's original pressed-tin ceiling.

Christopher's Bed and Breakfast has been voted by inngoers for three consecutive years as one of the Top 15 B&Bs for "Best Interior Design and Decor" in Arrington's Bed & Breakfast Journal's Book of Lists!