Greyhouse Inn Bed and Breakfast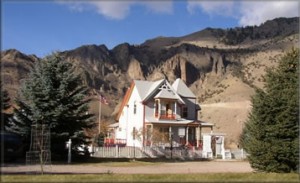 Greyhouse Inn Bed and Breakfast is located just twelve miles south of Salmon, Idaho, a nature-lover's paradise with activities for all ages. Enjoy white water river rafting, hiking, salmon fishing, hunting, exploring history, and more!

Looking for lodging at a child friendly hotel? We invite you to choose our Salmon, Idaho bed and breakfast instead. We take special pride in making your stay interesting, warm, friendly and comfortable. And that isn't all. Wait until you sit down to our delicious country breakfast!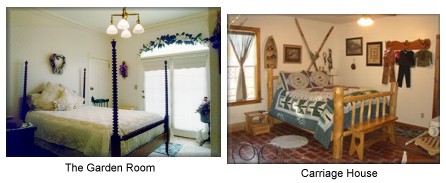 The Greyhouse Inn provides the best in Idaho lodging options, a charming Victorian style bed and breakfast house, a separate country style carriage house, and rustic, mountain style cabins.

The Carriage House offers charm and privacy. It has all the comforts of home including television and VCR, table and chairs, and private bath. The two beds, one full and one queen, insure restful sleep with down mattresses and comforters.
Our rustic Idaho cabins let you enjoy the best of both worlds, the rustic charm of bygone days and the comfort of modern amenities. Each cabin features queen size beds, colorful quilts, and private baths. The large cabin has two rooms.

Step out to the spacious front porch and enjoy the glorious mountains that invite you to explore Idaho history.