Click an area to view all listings.
Vacation Accommodation
Moose Lake Lodge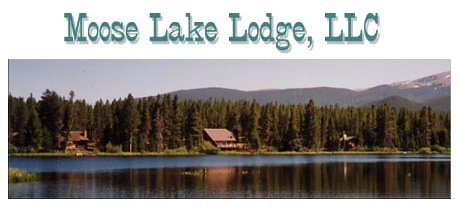 Moose Lake Lodge offers three lakefront vacation homes on the shores of Sun Valley Lake with spectacular lake and mountain views. In addition, we also have a beautifully furnished home set in the woods, only 200 feet from Sun Valley Lake, with lake access.

Our two, three, and four bedroom vacation homes are spacious and comfortable. Each of our lakefront homes has a wonderful sunny exposure, breathtaking views, and large furnished decks overlooking the lake. The Hummingbird House has a secluded woodland setting. All homes feature a fully equipped kitchen with microwave, telephone, barbeque, TV/VCR, and bed linens.

Sun Valley Lake is a secluded private lake 1/4 mile from Rocky Mountain National Park and just north of Grand Lake, Colorado. No power craft are allowed on the lake but canoes are provided for use at your own risk. Afternoon winds make sailing an exciting activity at the lake. There's great fishing too! Enjoy snowmobiling, cross-country skiing, and snowshoeing in the winter.

You'll want to make sure you have your camera and lots of film ready when you're staying at Moose Lake Lodge because Moose sightings can happen anytime!

Moose Lake Lodge
Moose Lake Lodge
6437 S. Heritage Place West
Centennial, xxxxxx
Phone: (303) 740-7441
Email: Click here to send an email
Web: www.mooselake-lodge.com


Display location on map

Black Forest Bed and Breakfast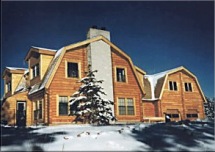 Black Forest Bed and Breakfast is a AAA-3 Diamond Log Lodge on 20 acres of pines overlooking the city lights and mountains.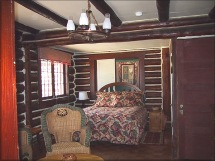 Spacious 1,600 sq ft guest house with private indoor lap pool. Romantic suite with whirlpool tub for two and fireplace. Family friendly cabins and vacation homes that can sleep up to 12 each!






Multi-media room for indoor gatherings and 1,000 sq ft log pavilion for outdoor gatherings, weddings, reunions, and retreats. Close to all Pikes Peak area attractions.

Black Forest Bed and Breakfast
Black Forest Bed and Breakfast
xxxx
xxxx, xxxx
Phone: xxxx
Toll free: 1-800-809-9901
Email: Click here to send an email
Web: www.blackforestbb.com


Display location on map

Sunshine Mountain Inn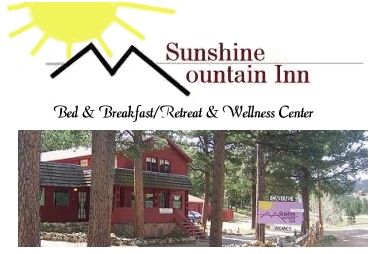 Sunshine Mountain Inn, near Allenspark, Colorado, is your place in the mountains when you just need to get away. Open and easily accessible year-round, Sunshine Mountain Inn offers affordable rates, rustic charm, homey comfort and unheard-of personal service by the owner herself.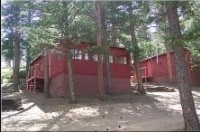 Our main lodge, 6 cabins and 5 wooded acres provide an ideal setting for personal getaways, group retreats, family reunions, weddings and other special events.


Our 1 and 2 bedroom cabins comfortably sleep 2-6 and include living rooms, fireplaces (in some units), fully equipped kitchens, and modern baths.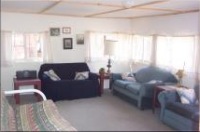 All cabins are newly renovated and refurbished, but remain quaint and rustic-feeling.


Pets are welcome and are free (with their owners) to explore miles of adjacent forest land. We're minutes from Rocky Mountain National Park, the Longs Peak trailhead and the Indian Peaks Wilderness Area.


After a day of hiking or fishing, cross-country skiing or snow-shoeing in Rocky Mountain National Park or the Indian Peaks Wilderness Area, treat yourself to a jacuzzi and a massage.



Enjoy a game of horseshoes or Monopoly, browse our video library, relax with a good book, or share stories around the fire.



In the morning, join us in the main lodge for a healthful breakfast. Come just relax and let go of your worries and stress and enjoy the quiet and the peace at Sunshine Mountain Inn.

Sunshine Mountain Inn
Sunshine Mountain Inn
xxxxxxx
Allenspark, xxx
Phone: (303) 747-2840
Email: Click here to send an email
Web: www.sunshinemtninn.com


Display location on map

Avalanche Ranch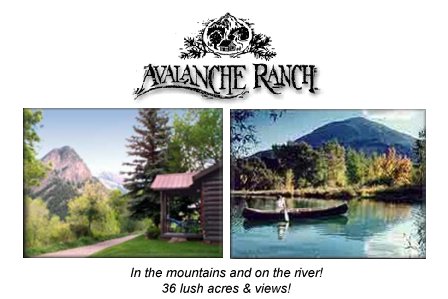 Tucked away in the Crystal River Valley just 40 miles west of Aspen, Colorado, Avalanche Ranch offers Rocky Mountain views, cozy log cabins, 3 bedroom house, common lodge for recreation & meetings, and a well-stocked antiques shop.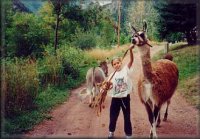 There are trails for hiking and biking as well as 7 private acres along the Crystal River to walk and fish. Tucked away, up high, our small pond offers premier views and a canoe to float in the moonlight.


The kids' cabin and tree house, sandbox, swing, tether ball, and resident animals, will engage the children. While, horseshoes, volleyball, and better yet, our new hot tub/spa will beckon adults to relax. In winter we sled, tube and luge! Snowshoes for all ages are ample, and ski discounts are available.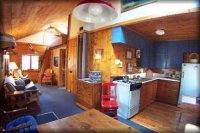 Accommodations at Avalanche Ranch include 12 fully furnished cozy log cabins that range in size from a studio to 2 bedrooms and loft, plus a spacious 3 bedroom Ranch house that sleeps up to 10. We have special Honeymoon cabins and Packages available too!



Our common lodge has telephone, TV/VCR, videos, games, ping-pong table, books and reading materials, available 24 hours.

Avalanche Ranch
Avalanche Ranch
12863 St. Hwy. 133
Redstone, CO 81623
Phone: 970-963-2846
Toll free: 877-963-9339
Email: Click here to send an email
Web: www.avalancheranch.com


Display location on map

Brynwood on the River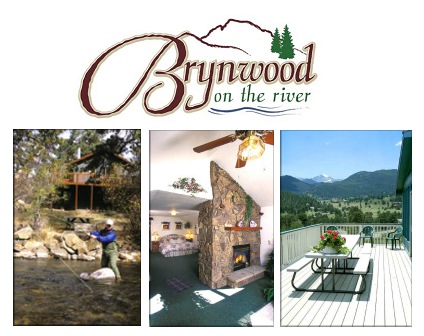 Brynwood on the River, located in beautiful Estes Park, is Colorado's unique family resort on the Big Thompson River where you can choose from River Cabins, Theme Cabins, Vacation Homes, or Motel Rooms.
Our tastefully decorated cabins in your choice of interior themes provide a homey atmosphere on the river or poolside. Our vacation homes offer a very private get-a-way off the property, most are in wooded areas around Estes.

All housekeeping cabins and homes have fully equipped kitchens with microwaves, coffee makers, etc. Each cabin has cable TV (HBO), VCRs, room phones, BBQ and picnic table. Bedding and linens are supplied.
We also have ten A/C motel units, closer to the pool, that provide quick in-and-out access for those on an active agenda.
BRYNWOOD on the RIVER is just that...right on the Big Thompson River. So if you're in the mood for a little relaxed fishing, just step out the door and cast your line!

Our aquatic complex provides guests with additional on-premises activities. The pool is maintained with environmentally compensated temperatures for your swimming pleasure. The bubbly spa soothes over-indulged muscles, and there's a shallow wading pool for your tiny tots.

So for whatever reason or season, whether it is biking, hiking, fishing, or just relaxing river or pool side, reserve your home away from home at Brynwood on the River.

Brynwood on the River
Brynwood River
xxx
Estes Park,, xxxx
Phone: 970.586.3475
Toll free: 800.279.4488
Email: Click here to send an email
Web: www.brynwood.com


Display location on map

Stone Mountain Lodge

Situated on 45 private acres overlooking Apple Valley with mountain views and wildlife, Stone Mountain Lodge is just 2 miles west of Lyons, Colorado on Highway 36, with easy access to Boulder, Longmont, Estes Park and Rocky Mountain National Park.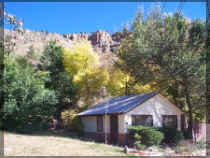 Stone Mountain Lodge has a motel building, a small campground, and single and duplex cabins. All units have color cable TV, a refrigerator and free local phone. Linens are also provided. All units are non-smoking. Pets are only allowed in the campground.





Our cabins include studio, 1 bedroom and 2 bedroom units. All units have a nice view of the mountain or valley. Each cabin is furnished with dishes, glasses, flatware and appropriate cookware

Hiking, fishing, bicycling and kayaking can all be done right from your doorstep. Fish in our private pond, or access the Saint Vrain River just steps away. Hike up our mountain, bicycle a level country road through Apple Valley to the town of Lyons, or do more serious mountain biking at Hall Ranch. Or, just relax at our pool.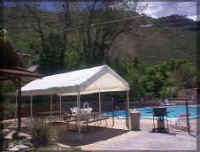 Just a 20 minute scenic drive brings you to Estes Park and Rocky Mountain National Park. Here you can experience the majestic beauty of the Rocky Mountains at one of the most popular national parks in the country. You can also enjoy the numerous gift shops, restaurants and boutiques that Estes Park has to offer.






Stone Mountain Lodge
Stone Mountain Lodge
xxxx
Lyons, xxx
Phone: 303-823-6091
Toll free: 800 282-5612
Email: Click here to send an email
Web: www.stonemountainlodge.com


Display location on map