CLOUD CANYON EXPEDITIONS
Wilderness Trips for Women



Cloud Canyon Expeditions offers guided backpacking trips for women in the magical canyon and slickrock country of southern Utah's Escalante River region. Each of our backpacking trips combines adventure, comradeship, and exploration, with the elements of a wilderness retreat. Women of all skill levels are welcome, novices as well as experienced backpackers.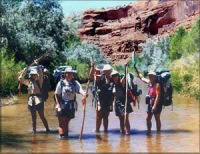 You will feel challenged and excited as we hike across rivers and creeks, over fantastic rock outcrops, and through the deserts and canyons of some of the world's most beautiful, untamed country. We at Cloud Canyon feel a deep passion and love for the country we travel in, and it brings us great joy to help you discover and love it too!

In addition to hiking, our trips include time for journal-writing, meditation, drawing, gazing at the stream, laughing and talking, watching the stars, swimming, and even the occasional nap.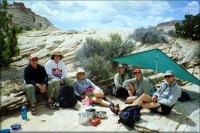 Cloud Canyon guides create a light-hearted, accepting, easy-going atmosphere. Our groups are small enough (usually 5-8 women) to allow us to get to know and trust each other, to travel as a team, with confidence, trust, and humor.