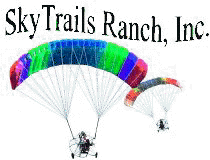 If you have a dream to fly....the safest way.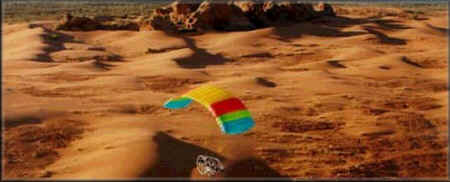 Skytrails Ranch, Inc. is a recreational business that appeals to anyone who has the desire to fly, whether they are passing tourists or retired grandparents. No license is required and no medical examination is needed to experience the recreational flying ecstasy and safety of a powered parachute.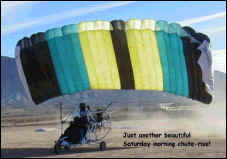 Our classes range from the 6-hour beginner course for the person who just desires to be the "PIC" Pilot-in-Command, to the more intensive 3-4 day training classes for the person who desires to soak-in, and be saturated with a total information package of PPC flying.


We also offer classes in preparations for BFI Exams and the Instructor's BFI refresher course.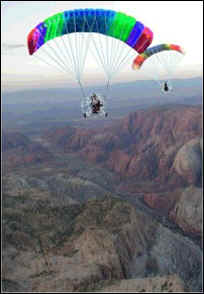 With our training programs, we are striving to standardize the safest, most complete and straight-forward method for sharing the fantastic sensation of a slow-n-low powered parachute flight.

With our powered parachute training, you will discover why the birds sing and re-live those childhood "flying dreams"!