Click an area to view all listings.
Colorado Northern Colorado Southwestern Colorado
Colorado Vacation Accommodation
Drowsy Water Ranch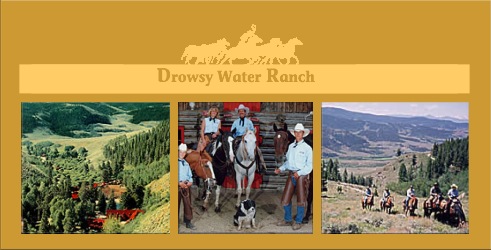 For over 70 years, this 600 acre ranch nestled in its own private mountain valley, has provided folks from around the world with authentic western vacations.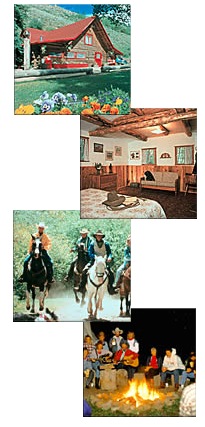 Drowsy Water Ranch is everything you'd expect a ranch to be. Real down-home hospitality amidst unforgettable mountain scenery. Barns, stables, corrals, ponds -- plenty of places where kids and adults love to explore. Cozy guest cabins, a lodge, children's playground, a fishing pond, swimming pool and a games area too.



We have programs suitable for all ages. Ranch activities include: horseback riding, swimming, horseshoes, steak fryes, trout fishing, western dancing, jeep trips, song fests, campfires, hayrides, carnival, pack trips, staff entertainment, gymkhana rodeos, raft trips, children's programs, nearby golf, hunting and much more!



Accommodations are top-drawer and carefully cleaned everyday. Snug. Comfortable. Western styled and decorated. With the smell of clean, fresh, mountain air, you'll never get a better night's rest -- anywhere!



At Drowsy Water Dude Ranch you can have all you care to eat - and nothing but the best! We take great pride in our food, which is lovingly prepared from recipes handed down for generations.



Drowsy Water Ranch
Ken and Randy Sue
P.O. Box 147
Granby, xxxxxx
Phone: 970-725-3456
Email: Click here to send an email
Web: www.drowsywater.com


Display location on map

Peaceful Valley Ranch

The Year-Round All American Vacation


Peaceful Valley Ranch is one of the world\'s most beautiful vacation and conference resorts, and one of Colorado\'s oldest and largest guest ranches.

Nestled high in the Rocky Mountains, the area is filled with snow capped peaks, rushing rivers, and some of the most spectacular scenery anywhere on earth. We invite you and your family to join us for a week of western fun that you'll never forget!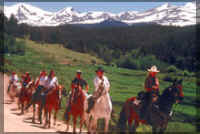 Come spend your summer vacation at beautiful Peaceful Valley Ranch!

With offerings of three night and six night packages, we\'ve created a program that you won\'t soon forget. Your package rates include all lodging, meals, and activities. From sun-up until well after sundown, we\'ll keep you and your family plenty entertained!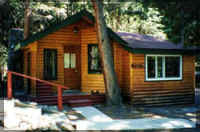 There is so much to do here! We have something for everyone, from young to old, timid to adventuresome.

Ranch activities include: horseback riding, hiking, fishing, climbing wall, dancing, 4X4 trips, square dancing, swimming, hot tubbing, nearby gambling, nearby golf, kids programs, hayrides, cookouts, talent shows, pack trips, game room, guest rodeos, exercise room, and in winter, snowshoeing, snowmobiling, and cross country skiing.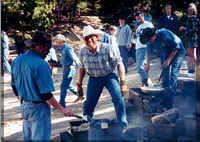 During spring, winter, and fall, we offer Bed & Breakfast or Full Meal packages (horseback riding and snowmobile rentals are extra).



Peaceful Valley Ranch
Peaceful Valley Ranch
475 Peaceful Valley Road
Lyons, xxxxxx
Phone: (303) 747-2881
Email: Click here to send an email
Web: www.peacefulvalley.com


Display location on map

Vista Verde Guest Ranch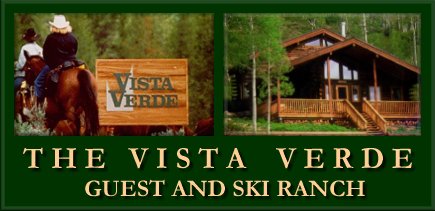 Vista Verde is a dude ranch and much, much more! We're a strap-on-your-saddle, kick-back-'n-relax, taste-tantalizing, mouth-watering, get-in-touch-with-nature kind of place - a 500-acre western vacation escape in Rocky Mountain High Country, surrounded by national forest, and a long, long way from what our guests call the everyday grind. We're also a little bit of luxury in a land of saddles, spurs and sagebrush.

Vista Verde style is first class and friendly, whether our guests select to stay in a private cabin or deluxe lodge room. The cabins include one, two or three bedrooms, a living room, bathrooms, and snack bar. Our spacious lodge rooms offer comfort and convenience with a sitting area, snack bar and balcony.

At Vista Verde, you'll enjoy three bountiful meals per day, prepared by our talented, award-winning chefs and served in our inviting lodge, on the sun deck or on the trail.
Be it summer or winter, we have many different activities and adventures can be part of your Vista Verde vacation. In summer, there's horseback riding, hiking, biking, fly fishing, whitewater rafting trips, kayaking, rock climbing, and more! In winter, enjoy track skiing, backcountry skiing, snowshoeing, horseback riding, and sleigh rides, at the ranch. There's dog sledding, snowmobiling, and downhill skiing, nearby. Or, just kick back, read a book, and soak in your hot tub.

If you're looking for a wild, wonderful, wide-open, well-fed, whitewater, whip cracking, wintry, warm-fire woodsy, wapiti-filled, wine-tasting, whale-of-a-time western adventure, come to Vista Verde!

Vista Verde Guest Ranch
Vista Verde Guest Ranch
PO Box 770465
Steamboat Springs, xxxxxx
Phone: (970) 879-3858
Email: Click here to send an email
Web: www.vistaverde.com


Display location on map

Wilderness Trails Ranch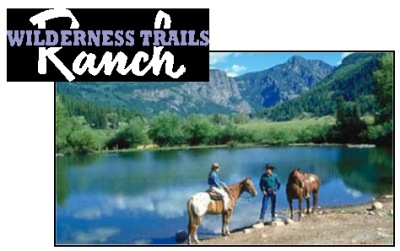 Whether you're looking for a perfect family vacation, honeymoon spot, corporate retreat, or your dream getaway, Wilderness Trails Ranch is the place for your horseback riding vacation. Our guests have created unsurpassed memories at our ranch, near Durango, in Southwestern Colorado since 1970.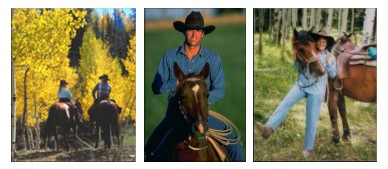 The "horse experience" is central at WTR. Our riding program is suited for every ability--whether you are a timid beginner or an avid rider. We match our horses to your ability, and we offer plenty of riding variety: riding instruction, half and all day trail rides, cattle work, a natural horsemanship clinic, arena work, a gymkhana, and private lessons.

Other activities at the Ranch include: hiking, fishing, water skiing, four-wheel drive trips, Mesa Verde tours, river rafting, dance lessons, hay rides, campfire sing-alongs, live music and dancing, massage therapy, and much more! You can relax by our 72-foot heated swimming pool or soak in the hot tub. We have three great programs for never-bored kids too!

Choose from two bedroom, two bath rustic cabins, or cabin suites with three bedrooms, three bathrooms, and living room with a wood- burning stove. All cabins have coffee makers, refrigerators, iron, ironing boards, decks, and daily maid service.

Bring along your appetite as meal times are always extra-special. Scrumptious breakfasts, Mexican, Italian, seafood, steak, vegetarian, buffets or cookouts, you'll LOVE our food!

Wilderness Trails Ranch
Wilderness Trails Ranch
.xxxx
Durango, xxxxxx
Phone: 970-247-0722
Toll free: 800-527-2624
Email: Click here to send an email
Web: www.wildernesstrails.com


Display location on map

Creek Ranch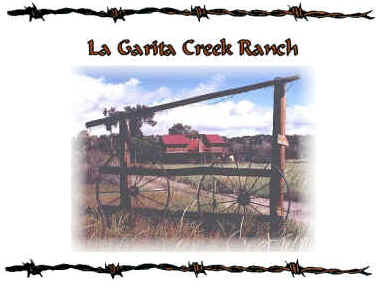 La Garita Creek Ranch, is located in the San Juan Mountains of Southwestern Colorado and surrounded by the BLM and the Rio Grande National Forest.

Your all-inclusive vacation includes accommodations in the Lodge or Cabins, three hearty ranch meals daily, and your personal horse for the stay.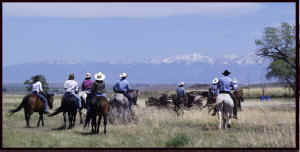 Enjoy horseback riding, cookouts, karaoke night, swimming, hot tub, trout fishing, hayrides, archery, target & skeet shooting, and mountain biking. Within the rate, one off the ranch activity is also included, which could be white water rafting, technical rock climbing instruction, golf, or ride on the Cumbres Toltec Railroad. Hot air ballooning, or fishing float trips are available at additional costs.

Creek Ranch
Creek Ranch
San Juan Mountains
San Juan Mountains, xxxx
Phone: 1-888-838-3833
Toll free: 1-888-838-3833
Email: Click here to send an email
Web: www.lagarita.com


Display location on map

Buffalo Creek Ranch
Buffalo Creek Ranch is a working cattle ranch with 16,000 private acres located high in a Rocky Mountain Valley, under the Continental Divide. Come join us for an amazing "Real West" ranch vacation with the best fly-fishing and big game hunting Northern Colorado has to offer. We take a maximum of 6 guests at a time to ensure undivided guest attention.

We offer luxurious accommodations in our beautiful brand new three story lodge, with every detail attended to for your comfort. Delicious and hearty meals are served family style overlooking the deck surrounded by aspen forest with views of Buffalo Ridge, Timothy Ridge and North Park's snowcapped Zirkle Mountain range and your six person hot tub.

Buffalo Creek Ranch is a sportsman's paradise. Enjoy fly-fishing, hunting, unlimited horseback riding or cross-country skiing at your own pace. There are also many activities and attractions nearby including: whitewater rafting, golfing, kayaking, hot air ballooning, a pro-rodeo (summer weekends), and more!

Buffalo Creek Ranch
Buffalo Creek Ranch
xxxxx
Rocky Mountain Valley, xxx
Phone: (970) 723-8311
Email: Click here to send an email
Web: www.buffalocreek.com


Display location on map

Coulter Lake Guest Ranch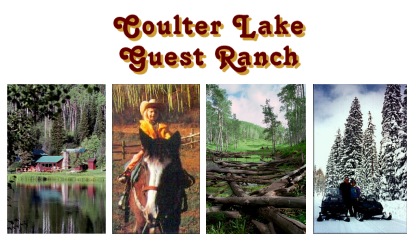 Coulter Lake Guest Ranch is secluded within the White River National Forest at an elevation of 8100 ft. among groves of aspens and pines. With sparkling mountain streams, a beautiful high mountain lake and magnificent mountain ranges, we enjoy some of the most awesome and spectacular scenery that can be found anywhere in Colorado.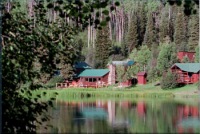 Come experience the ultimate Ranch Vacation at Coulter Lake Guest Ranch. Horseback rides on endless trails, horsemanship classes and clinics, white water rafting, target and skeet shooting, rock climbing and hiking, archery, swimming, fishing, campouts, pack trip rides, breakfast rides, dinner rides, great people, new friends, rustic cabins, superb food and the list goes on and on.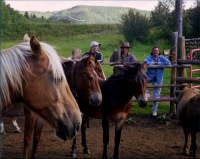 We offer special programs for families, singles and couples. Choose from a 4 or 6 night stays in our rustic log cabins that overlook the pristine Coulter Lake stocked with rainbow and cutthroat trout. Our Full American Plan Packages include lodging, meals, horseback riding and all available activities during your stay.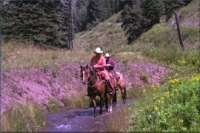 Our trial rides take you high into the mountains where you will discover the natural beauty of the Rocky Mountains. We have trails for all levels of riding from beginning to endurance level. Rides can be 1 hour, 2 hour, half day or all day, with shorter rides available for the less experienced and longer rides for those feeling "at home" in the saddle. No matter what your ability, you will have a superb time with us!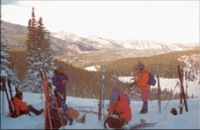 In winter we offer winter adventures including snowmobile tours, snow shoe trips, ice climbing and cross country ski excursions directly from Coulter Lake, as well as downhill skiing at Sunlight, Aspen and Snowmass Ski Areas.



Coulter Lake Guest Ranch
Coulter Lake Guest Ranch
xxxx
xxxx, xxxx
Phone: 970-625-1473
Toll free: 1-800-858-3046
Email: Click here to send an email
Web: www.coulterlake.com


Display location on map

C Lazy U Ranch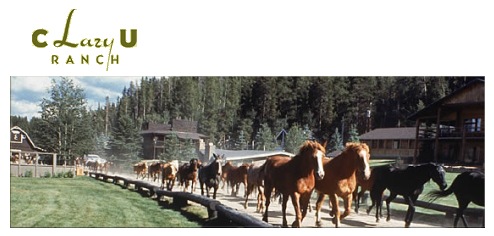 The heritage of our dude ranch dates back to 1946 and has built its reputation on providing the premier Colorado guest ranch experience. When you stay C Lazy U Ranch, the entire ranch becomes your home, and you a part of our family. Get to know our helpful staff and the horse that will accompany you during your stay.
At C Lazy U Ranch you'll find peaceful surroundings, blue skies, walking trails and pristine lakes. You'll be horseback riding, flyfishing, skiing and hiking in Colorado high country. Our programs provide the perfect balance with "kids only" programs, horsemanship training, family activities and energetic ideas for groups.

Beautifully appointed rooms let you enjoy solitude and warmth. Most of our guest rooms feature stone fireplaces and western/southwestern style furnishings. "Little extras" include nightly turndown, plush robes, and coffee, tea, cocoa, snacks and a fresh fruit basket replenished daily. Deluxe rooms have Jacuzzi® tubs and mini-refrigerators stocked with cold beverages.

Life on the ranch works up a hearty appetite and the meals here at C Lazy U are the reward for an adventurous day. Enjoy decadent desserts, after-dinner drinks and fireside entertainment too.
We have an outdoor pool, hot tub, fitness/exercise center, sauna, activity area, billiards and game room. The Main Lodge houses the living room, library, dining room, bar, card room and the front porch- a guest favorite for fresh air. There is also an executive business cabin that is well equipped with phones, data port and Internet access.



Winter activities at the Ranch include: cross country skiing, snowshoeing, telemark skiing, ice skating, tubing, sledding, and horse-drawn sleigh rides.

C Lazy U Ranch
C Lazy U Ranch
xxxx
xxxx, xxxx
Phone: 970.887.3344
Email: Click here to send an email
Web: www.clazyu.com


Display location on map

Colorado Trails Ranch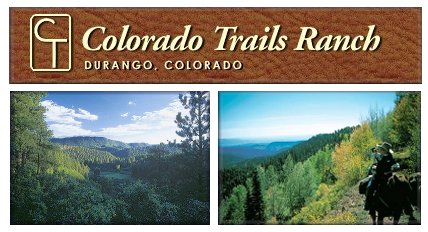 Fun, adventure, and breathtaking scenery await your family at Colorado Trails Ranch, in the San Juan Mountains outside historic Durango, Colorado.

Your stay at CTR will be filled with horseback riding on scenic trails, fly-fishing in mountain streams, rafting, trap-shooting and hiking. Children will have the time of their lives making friends and discovering new activities in CTR's children/teens' program. In the evening you can enjoy a hayride & campfire sing-along, western dancing, cookouts and relaxing under starlit skies.



Our array of activities, friendly staff, excellent food, cozy cabins and spectacular location will make your Colorado Trails Ranch vacation one you'll always remember.

Colorado Trails Ranch
Colorado Trails Ranch
xxxx
Durango, xxx
Phone: 1-877-711-7843
Email: Click here to send an email
Web: www.coloradotrails.com


Display location on map

Elk Mountain Ranch

Located in the heart of the Rockies, Elk Mountain Ranch is unique for its spectacular location, horseback rides of unmatched beauty and variety, superb menu, and intimate capacity.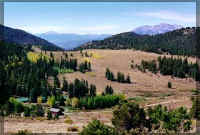 Elk Mountain Ranch offers a complete one-week package that includes the best activities Colorado has to offer at a very reasonable all-inclusive price.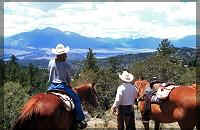 You'll enjoy horseback riding and instruction that is unsurpassed. Daily riding into thousands of acres of unspoiled wilderness. Thrilling white water raft trip! Visit an abandoned mining town. Vehicle trips to Aspen. Overnight camp trip high in the Rockies. Full children's program.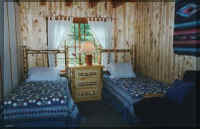 There's a jacuzzi, campfires, trap shooting, square dancing, hiking, archery, horseshoes, riflery, volleyball, movies, two stocked fishing ponds, softball, library, and relaxation too.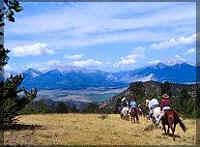 Our accommodations include log cottages and lodge rooms. All are carpeted, tastefully furnished, with daily housekeeping service.

You'll enjoy three full course meals a day. The food is superb, varied, and sure to delight hearty and discerning appetites.

At Elk Mountain Ranch, we are committed to upholding the deserved reputation for a traditional western vacation experience which is unsurpassed.

Elk Mountain Ranch
Elk Mountain Ranch
xxxx
Rockies, xxxx
Phone: (719) 539-4430
Toll free: 1-800-432-8812
Email: Click here to send an email
Web: www.elkmtn.com


Display location on map