Buffalo Joe offers guided whitewater rafting river adventures in Colorado for singles, couples, families and groups of all ages. Even if you have never been rafting, or are a non swimmer, we have a trip for you!
Choose from half-day to 6 day river raft tours on the Arkansas River and Dolores River. We have trips for all skill levels from Class I (mild float trips) to Class V rapids (high adventure). As a special BJ bonus, our guides serve a great gourmet steak lunch (chicken or veggie available upon request) on the Arkansas River. This is truly unique to our Colorado guests and our company.

Buffalo Joe's Whitewater Rafting has been in the business of whitewater rafting in Colorado since 1978. Our number one priority is your safety. We have been an industry leader in safety for over 23 years. All our guides are highly trained and experienced on the Arkansas River.
If you have an outdoor fantasy we can help you to plan an adventure-filled vacation that will exceed your wildest expectations!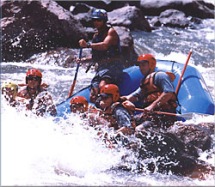 Buffalo Joe's is a great staging area for your vacation. We can steer you and your family toward the best fishing, mountain bike trails, kayaking, horse back riding, four wheel trails, ATV rentals, hiking, rock climbing, campsites, lodging, hot springs, and places to view wildlife.