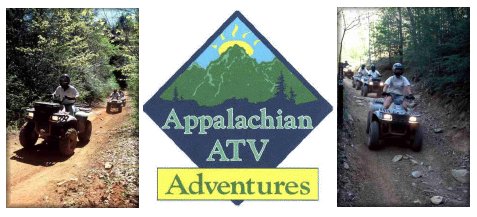 AppalachianATV Adventures offers complete ATV guided trailrides in the National Forests of western North Carolina from April 1 to December 15.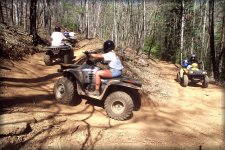 Wintertime riding in the Chattahoochee National Forest can be arranged for groups of up to 8 riders, weather permitting.


Operating with a Special Use Permit from the U.S. Forest Service, you will experience a unique, forest friendly riding environment that is both fun and educational. Over 28 miles of steep, winding trails will take you deep into the National Forest.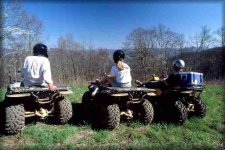 Our tours are ideal for 1st time riders, at least 16 years of age since a comprehensive safety training session precedes every ride. Riders between 16-18 years of age must have signed parental consent.


Safety equipment is provided but bring your raingear for all-weather comfort on these fun and easy to ride ATVs with automatic transmissions. Safety Guides accompany riders all along the way.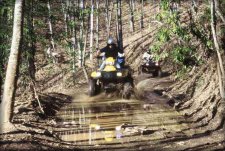 Morning tours depart from Highlands, NC at 9:30 AM and return at 2:30 PM. Afternoon tours depart at 12:30 PM and return at 5:30 PM. A picnic lunch is included in both morning and afternoon tours.

New for 2004, all-day combination tours with river outfitters provide the half-day ATV tour with a half-day of tubing, rafting or kayaking on the Tuckaseegee River, or flatwater paddling in canoes or kayaks on one of three pristine mountain lakes. We do all the driving so you can concentrate on the fun.

A special all-day ATV Challenge Course program incorporating initiative games for team building with small business groups is also new for 2004.