Click an area to view all listings.
California Northern California Santa Cruz Southern California
California Vacation Accommodation
Fensalden Inn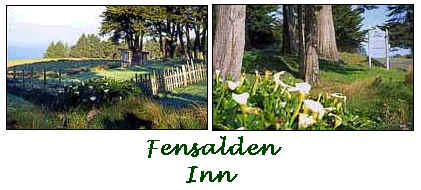 Fensalden Bed & Breakfast Inn, located on the Northern California Coast, just south of Mendocino in Albion, was a stagecoach stop during the 1860s.
Completely renovated, this B&B offers the traveler to Northern California eight romantic accommodations with ocean views, fireplaces, private bathrooms and a gourmet breakfast each morning.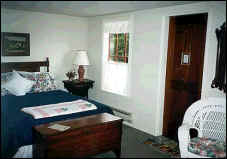 Relax and enjoy the fire and gaze at the ever changing sea as you enjoy afternoon wine and hors d'oeuvres in the Tavern Room.


In the morning, a full gourmet breakfast is served. On Sundays, a champagne brunch is offered.


If you are in the mood for exploring or shopping, the Inn is just seven miles south of the quaint New England style village of Mendocino, with shops and galleries galore and some of the best eating places on the coast.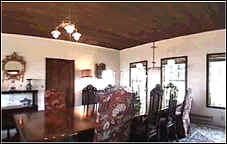 More than just lodging, Fensalden and her hosts offer a unique pampering experience to the traveler. Come visit "The Land of the Sea and the Mist", Fensalden Inn.

Fensalden Inn
Fensalden Inn
33810 Navarro Ridge Road
Albion, xxxxxx
Phone: 707-937-4042
Email: Click here to send an email
Web: www.fensalden.com


Display location on map

Victorian Inn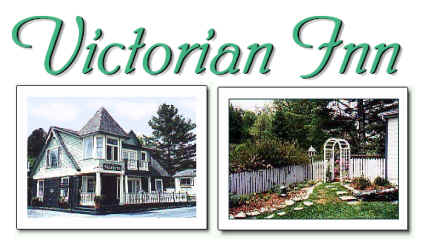 Elegantly restored Victorian home nestled in the heart of Blowing Rock. One of Blowing Rock's most photographed buildings, this grand lady of the village also possesses a beautifully restored interior where you are welcomed to a world of warmth, elegance, and charm as guests of the Victorian Inn.

Our rooms with king or queen beds are spacious and beautifully decorated. Each has a private entrance and its own luxurious bath. All the rooms are unique from one another, some offering amenities such as a sun room, sitting area, or a private balcony. Two of the rooms have large gardentubs with separate stall showers and three other rooms have gas log fireplaces. There are ceiling fans in each bedroom along with color cable television, a small refrigerator, quality linens, luxurious comforters, and plush towels.

We invite you to stay at Victorian Inn, located just a short walk from the shops on Main Street and an excellent assortment of restaurants.

Victorian Inn
Victorian Inn
xxx
Blowing Rock, xxx
Phone: 828-295-0034
Email: Click here to send an email
Web: www.the-victorian-inn.com


Display location on map

Backyard Garden Oasis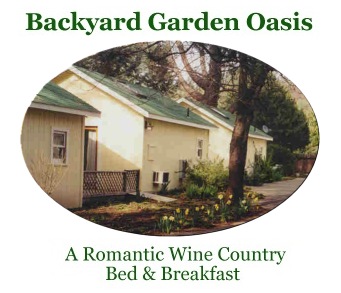 Located just 20 minutes north of Calistoga and 5 minutes to Middletown, away from the crowds, the Oasis has three charming cottages available for your personal enjoyment in peace and serenity.

Each has a firm king-sized bed with a view through the skylight in the vaulted ceiling. There are spacious showers in the bathrooms, heating, air conditioning, a refrigerator and coffee maker, TV and VCR.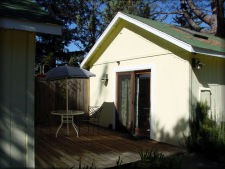 Each cottage has a sliding glass door which leads to a private deck, and has views of the gardens, the Manzanita grove, the pond, the creek or the rest of the 2 acres upon which the Oasis sits. Mt. St. Helena can be seen from each cottage and there is also a spectacular view from the porch of the main house.


A country breakfast is served at the main house. Fresh fruits and vegetables from our organic garden are seasonally available at breakfast and for the picking.




Relax in a hot tub under the Milky Way or indulge yourself or your honey with a therapeutic massage, without leaving the property. Gift Certificates are available for either Reservations or Massage at the Oasis.

Backyard Garden Oasis
Backyard Garden
xxx
Calistoga, xxx
Phone: (707) 987-0505
Email: Click here to send an email
Web: www.backyardgardenoasis.com


Display location on map

North Coast Country Inn Bed and Breakfast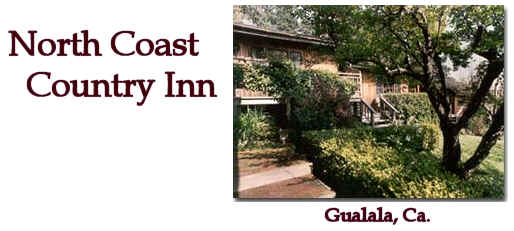 On California's wild and beautiful North Coast, this cluster of luxurious redwood buildings, nestled into a forested hillside, is a haven to be returned to again and again.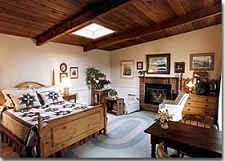 Guestrooms have king or queen sized beds, fireplaces, dining areas, private bathrooms and sitting areas where guests relax and enjoy the fire with a glass of wine.






Lower gardens or up the hill is a romantic gazebo and sitting deck in a grassy glen surrounded by towering pines. The hot tub enclosure is built around a towering pine tree. Full gourmet breakfast is served. Gold, hiking, kayaking, fishing and beaches are nearby.



North Coast Country Inn Bed and Breakfast
North Coast
xxx
Gualala, xx
Phone: 707-884-453
Toll free: 800-959-4537
Email: Click here to send an email
Web: www.northcoastcountryinn.com


Display location on map

Joshua Grindle Inn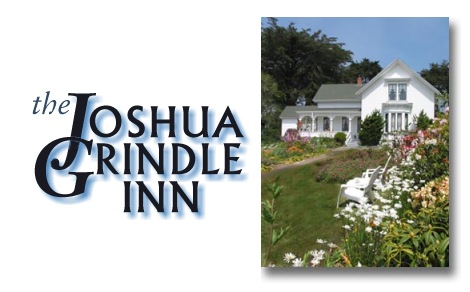 Joshua Grindle Inn, a beautiful 19th century home, is set on a two-acre estate with views overlooking the Pacific Ocean, Mendocino Bay, and the village of Mendocino.

This "Inn of the Year" is a bed and breakfast with spacious and romantic rooms. All our beautifully furnished accommodations have private baths and King or Queen bed. Room amenities include our luxurious logo bathrobes, quality toiletries including locally handcrafted glycerin soaps, Mendocino Cookie Company cookies and Husch wine. Three of our guest rooms also have luxurious whirlpool tubs.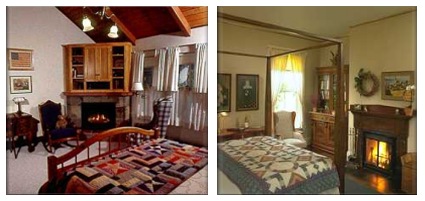 We start you off with a sumptuous full breakfast and then let you choose how to fill your days. Hike the coast, browse the shops, loaf in our gardens, ride out a storm, read by your fireplace, or dine in one of Mendocino's star rated restaurants.

At our recently awarded AAA Four Diamond Mendocino inn, we offer you unobtrusive care and a wonderful night's sleep. Mendocino's majestic beauty may beckon you, but the Joshua Grindle Inn B&B will be the reason you return again and again.



Joshua Grindle Inn
Joshua Grindle
xxxx
Mendocino, xxx
Phone: 707-937-4143
Toll free: 1-800-GRINDLE
Email: Click here to send an email
Web: www.joshgrin.com


Display location on map

Inn at Schoolhouse Creek

Near the village of Mendocino, The Inn at Schoolhouse Creek has offered lodging to California coastal visitors since the 1930's. Located on 8 acres of beautiful gardens, meadow and forest, the Inn was once part of a large coastal ranch, and still reminds you of those earlier times.

We offer cozy secluded cottages, luxurious suites, and beautifully decorated guest rooms, with breathtaking views. All guest quarters have private baths, fireplaces, TV/VCR's, CD Players, phones, private entrances and are surrounded by beautiful gardens. All have decks or an adjoining garden seating area.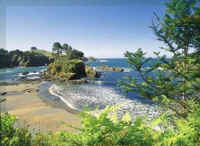 Walk to Buckhorn Cove, sit in the gardens, see the waves break and the whales spout from your cottage. Relax in our Hot Tub at the top of the meadow while contemplating the sunset over the Pacific Ocean. The sense of quiet and peace of this country environment is relaxation at its best.

The charming and historic village of Mendocino, California with its many fine galleries, restaurants and shops, and restaurants is five minutes away.



Inn at Schoolhouse Creek
Schoolhouse Creek
xxx
Mendocino, xxx
Phone: 707 937-5525
Toll free: 800-731-5525
Email: Click here to send an email
Web: www.schoolhousecreek.com


Display location on map

McElroy's Cottage Inn
McElroy's Cottage Inn is a large, lovely craftsman home, built in the early 1900's, and carefully renovated into a charming and unique inn.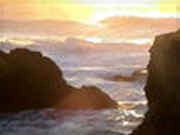 We are located in the beautiful and historic village of Mendocino and face the spectacular Mendocino coastline. We are a very easy walking distance to the trails along the ocean cliffs and beaches, restaurants, bakeries, historical museums, art galleries, and fun shopping.


The house, water tower and cottage are all surrounded by gardens. McElroy's Cottage Inn provides a relaxing and nourishing getaway from the hectic schedule of today's workplace.


All of our rooms have queen beds, private baths, small refrigerators, games, puzzles, flannel sheets and white terrycloth robes for your enjoyment and pleasure.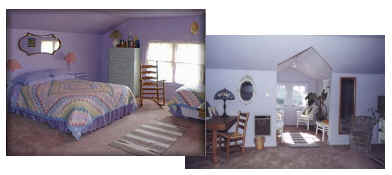 We serve coffee and homemade breads in the morning and there is a guest phone for your convenience. In house sessions of Acupressure Bodywork are available by Bonnie. Please try to call ahead for an appointment.

McElroy's Cottage Inn
McElroy Cottage
xxx
Mendocino, xxx
Phone: 707 937-1734
Toll free: (888-262-3576)
Email: Click here to send an email
Web: www.mcelroysinn.com


Display location on map

MacCallum House Inn
MacCallum House Inn
and Restaurant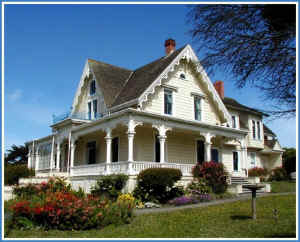 Enjoy the warmth and hospitality of the MacCallum House Inn and Restaurant, Mendocino's finest Victorian landmark. Built in 1882, this stately home is filled with charm and romance, and antiques of a bygone era.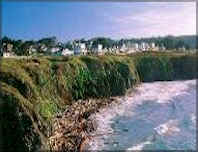 The MacCallum House stands at the heart of quiet Mendocino village. An easy stroll brings you to art galleries, live theater, shops, restaurants, and rugged ocean cliffs.


The charming village of Mendocino is perched on a peninsula jutting into the sea and surrounded by a state park.



Mendocino is a delightful three and a half hour drive from San Francisco through lush wine country, picture post card valleys and giant Redwood forests. The last 7 miles are along spectacular ocean cliffs.

t MacCallum House, we offer 15 beautifully decorated guest rooms.

All room prices include a gourmet breakfast served in our formal dining room. Complimentary wine hour every evening, and coffee and tea is available 24 hours a day, upstairs in our sitting room in the main house.

MacCallum House Restaurant and Grey Whale Bar & Cafe is warm and inviting, from the sunny wrap-around porch to the convivial bar and romantic firelit dining rooms. Take in gorgeous views of the ocean from the bar or sun porch.

MacCallum House Inn
MacCallum House
xxxx
Mendocino, xxx
Phone: (707) 937-0289
Toll free: (800) 609-0492
Email: Click here to send an email
Web: www.maccallumhouse.com


Display location on map

Agate Cove Inn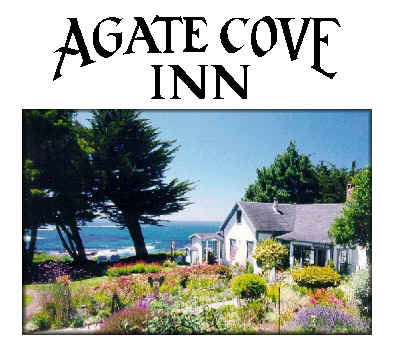 Perched on a bluff above the Pacific Ocean, Agate Cove Inn delivers a breathtaking view of the joining of land and sea.
The Farmhouse and cottages are set on two acres of beautiful coastal gardens, and 100-year-old cypress trees frame the property. Operating for the past several decades as an inn, Agate Cove has provided unforgettable experiences to its guests as the perfect setting for weddings, anniversary and birthday celebrations, holidays, or just a relaxing getaway.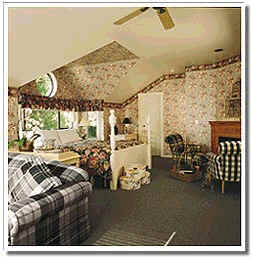 Each of our rooms is individually decorated and furnished. All feature queen or king beds with Scandia down comforters, private baths, TV/VCRs and CD players. All but two of our rooms have ocean views and fireplaces.


We serve a full country breakfast, including an appetizer, muffins or bread, and a main course.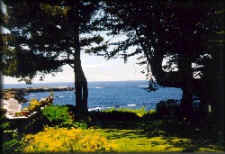 Agate Cove Inn provides an excellent base from which to explore the Mendocino area, but you can also just grab an Adirondack chair on our lawn and marvel at the beauty of the ocean!



Agate Cove Inn
Agate Cove
xxx
Medocino, xxx
Phone: 707-937-0551
Toll free: 800-527-3111
Email: Click here to send an email
Web: www.agatecove.com


Display location on map

Elk Cove Inn

Elk Cove Inn, located in the scenic village of Elk, is perched in the middle of a romantic setting and commands some of the most spectacular views along the coast. Come and discover the pristine and dramatic natural beauty of the Mendocino coastline.

We offer you six antique filled rooms in an 1883 Victorian oceanfront Mansion, four cottage units in two buildings on the ocean's bluff behind the main house plus our four new luxurious oceanfront spa suites. All accommodations are extremely quiet and private. Our inn sits off the road, down by the ocean. We are totally surrounded by native trees, creek, ocean and rocks.

All accommodations have private bathrooms and include such personal touches as feather beds, down comforters, terry robes, exquisite linens, bath amenities, fresh flowers, and comfortable rocking chairs. There's a flashlight to guide you for nighttime beach walks. There are even port and chocolates to enjoy before bedtime! A bountiful, gourmet buffet breakfast is served daily in the ocean front dining room of the main house.



Shops and restaurants are within easy walking distance, the historic village of Mendocino is just about 20 minutes north, and the fabulous Anderson Valley wineries and redwood forests are a short drive away.

Elk Cove Inn
Elk Cove
xxxx
Mendocino, xxx
Phone: (707) 877-3321
Email: Click here to send an email
Web: www.elkcoveinn.com


Display location on map

M's Bed & Breakfast
M's Bed and Breakfast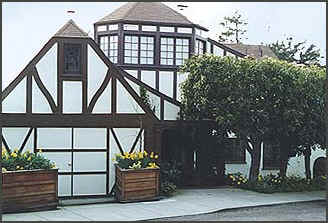 Berkeley, California
Set in the spectacular Berkeley Hills with sweeping views of San Francisco and the Bay, M's Bed & Breakfast indulges guests to feel at home in a warm family atmosphere. The Berkeley Hills are part of the East Bay Regional Parks, forty miles of wooded oasis where you can enjoy hiking and biking, watch red tail hawks, fox and deer, and take in stunning views of the region.

M's Bed & Breakfast makes the perfect base for day trips to San Francisco just 15 minutes away, exploring the coast, touring wine country, and a celebratory rendezvous for the Big Game or families visiting students at Berkeley, or, best of all, a romantic interlude overlooking the Bay.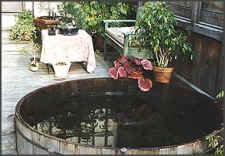 Back at Mary's you can lounge on the redwood deck, taking breakfast and afternoon tea as you watch the sun rise and set.


Take a dip in the redwood hot tub under the stars and watch the city lights shimmer as you sip on complimentary drink from the open bar.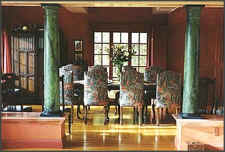 Guests can relax in the bright and comfortable living and dining rooms, cradled by rich fabrics in soft chairs, and caressed by the flames of a crackling log fire.


Meeting, retreat, and small conference services are available.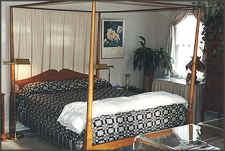 M's Bed & Breakfast lodges up to six guests in three rooms - The Master Suite with private bath and majestic views, and the North Room and Sampler Room, which share an oversized marble bath with double Jacuzzi.

M's Bed & Breakfast
M's Bed
xxx
Berkeley, xxxx
Phone: (510) 654-0648
Email: Click here to send an email


Display location on map

China Creek Bed and Breakfast
China Creek Bed and Breakfast
China Creek Bed and Breakfast is located near the southern entrance to Yosemite Park in the village of Oakhurst.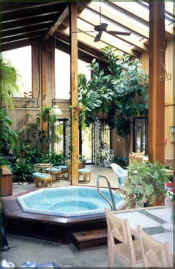 Nestled on 5 acres in the Sierra Foothills, only 1/2 mile from restaurants and antique shops in the village, the B&B provides affordable luxury in a beautiful spacious contemporary home.


Guest rooms are entered privately through the lush Garden Atrium with a three tier waterfall and heated spa and wake to a delicious full hot breakfast served in the Atrium.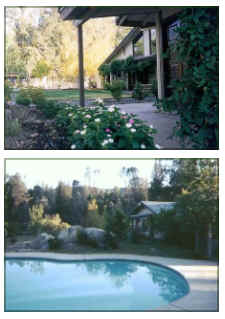 Lawns grace the landscape and surround the outdoor pool, grape arbor and picnic area.


China Creek B&B offers a peaceful vacation retreat near Yosemite and Bass Lake.



China Creek Bed and Breakfast
China Creek
xxx
Oakhurst, xxx
Phone: 559.642.6248
Toll free: 888.246.0720
Email: Click here to send an email
Web: www.bbhost.com/chinacreek


Display location on map

Shafsky House Bed & Breakfast
Shafsky House Bed & Breakfast
Shafsky House
xxxx
Placerville, xxxx
Phone: (530) 642-2776
Email: Click here to send an email
Web: shafsky@directcon.net


Display location on map

Plantation Bed & Breakfas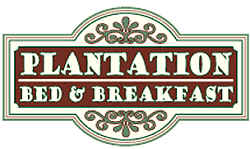 Nestled in the foothills of the Sierra Nevada Mountains among acres of orange groves, lies The Plantation Bed & Breakfast of Lemon Cove, CA.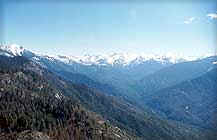 The plantation is a peaceful country getaway located in a small citrus community with a population of 190, yet conveniently located on the two-lane scenic California Highway 198 with various tourist attractions and over 150 restaurants within a 20 minute drive.


THE ENTRANCE TO SEQUOIA AND KINGS CANYON NATIONAL PARKS IS ONLY 16 MILES FROM THE PLANTATION.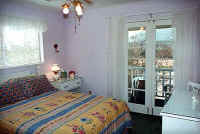 The plantation theme is carried out with the rooms being named after characters from "GONE WITH THE WIND". All seven rooms have king or queen bed, private bathrooms, air conditioning, fresh flowers and robes to wear out to the pool and jacuzzi. Some rooms also have private verandas and fireplaces.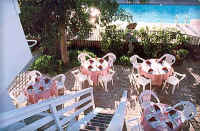 At the Plantation Bed and Breakfast wake up to sunshine, the sound of chirping birds and the aroma of Chef Marie's lavish gourmet breakfast, which is served in the elegant dining room, or outside in the spacious brick courtyard overlooking the pool and gardens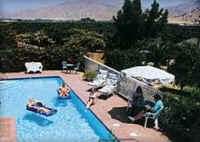 The swimming pool, which is heated in the spring and the Jacuzzi Hot Tub, always heated and located out in the orange grove for privacy, are open 24 hours. So you can wrap up your day in one of our fluffy robes, slip out to the Jacuzzi to soak, unwind and enjoy millions of stars in the peaceful country night.




Plantation Bed & Breakfas
Plantation Bed & Breakfas
xxxx
Sequoia National Park, xxxx
Phone: (559) 597-2555
Toll free: (800) 240-1466
Email: Click here to send an email
Web: www.theplantation.net


Display location on map

High Country Inn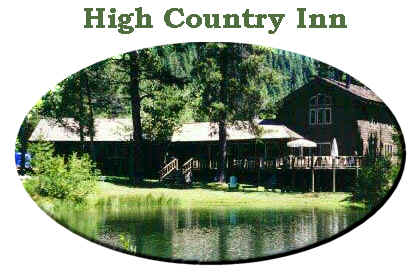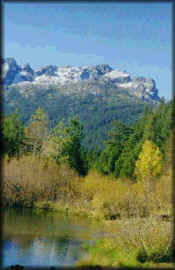 A unique inn with outstanding ambiance, spectular

views from each room, hearty gourmet breakfasts,

private trout pond, and soothing sounds of the river.


All will enhance your stay at High Country Inn.



"Out of the way -- but out of this world!"
--Bon Appetit Magazine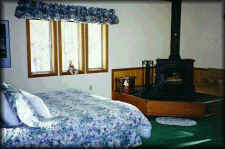 Our five guest rooms are cozy and charming, comfortably furnished and beautifully decorated.


The Inn is open all year, and all the outdoor activities of our area are close by. Come visit our website for more information -



High Country Inn
High Country
xxxx
Sierra City, xxx
Phone: (530) 862-1530
Toll free: (800) 862-1530
Email: Click here to send an email
Web: www.Hicountryinn.com


Display location on map

Volcano Union Inn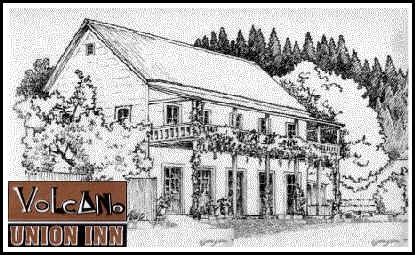 A casually elegant country inn with 4 generous rooms, each with beautifully appointed baths (including 2 person tubs in king rooms).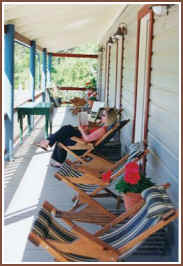 We're 1-1/2 hrs from Lake Tahoe, 2-1/2 hrs from Bay Area, 45 min. from Sacramento, and nearby other historic gold rush towns and villages. Great bicycle riding, motorcycle riding, or just walking terrain.


Our Inn has a coffee bar, with espressos, mochas and all manner of goodies. Soon to serve beer, wine, casual food, with live music occasionally.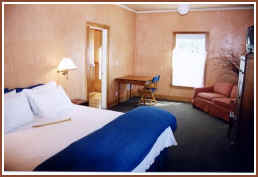 Volcano Union Inn
Volcano Union
xxxx
Sierra Foothills, xxxx
Phone: xxx
Email: Click here to send an email
Web: www.volcanounioninn.com


Display location on map

Chichester Mckee House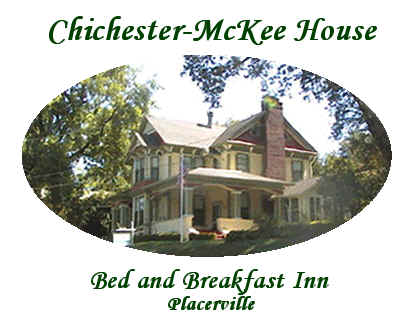 Think of a quiet time....in the Sierra Foothills....it is the turn of the 19th Century 1899-1900....and how romantic a Victorian home was.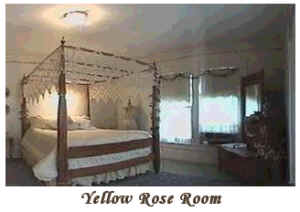 Back in the summer of 1892 D.W. Chichester built this gracious home for his wife Caroline. Lovingly restored, the original beauty lives on for the pleasure of others. Beneath the Victorian dinning room was once a pioneer gold mine. Now Doreen serves her Famous Caramel Brownies.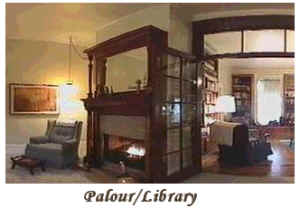 Wood and stain glass...it is an inspiration to come into this charming home....to find warm hospitality and to remember .... a visit to an earlier time. Come visit our website at

Chichester Mckee House
Chichester Mckee
xxx
Sierra Foothills, xxxx
Phone: 800-831-4008
Email: Click here to send an email
Web: www.innlover.com


Display location on map