Idaho Bed and Breakfast
Click an area to view all listings.
Idaho Vacation Accommodation
Greyhouse Inn
Greyhouse Inn Bed and Breakfast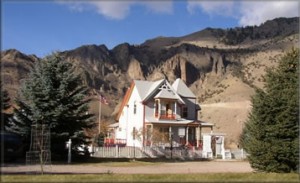 Greyhouse Inn Bed and Breakfast is located just twelve miles south of Salmon, Idaho, a nature-lover's paradise with activities for all ages. Enjoy white water river rafting, hiking, salmon fishing, hunting, exploring history, and more!

Looking for lodging at a child friendly hotel? We invite you to choose our Salmon, Idaho bed and breakfast instead. We take special pride in making your stay interesting, warm, friendly and comfortable. And that isn't all. Wait until you sit down to our delicious country breakfast!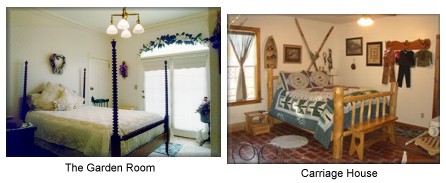 The Greyhouse Inn provides the best in Idaho lodging options, a charming Victorian style bed and breakfast house, a separate country style carriage house, and rustic, mountain style cabins.

The Carriage House offers charm and privacy. It has all the comforts of home including television and VCR, table and chairs, and private bath. The two beds, one full and one queen, insure restful sleep with down mattresses and comforters.
Our rustic Idaho cabins let you enjoy the best of both worlds, the rustic charm of bygone days and the comfort of modern amenities. Each cabin features queen size beds, colorful quilts, and private baths. The large cabin has two rooms.

Step out to the spacious front porch and enjoy the glorious mountains that invite you to explore Idaho history.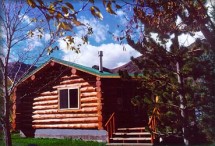 Greyhouse Inn
Greyhouse Inn
xxx
Salmon, xxxxxx
Phone: 1-800-348-8097
Email: Click here to send an email
Web: www.greyhouseinn.com


Display location on map

Cedar Mountain Farm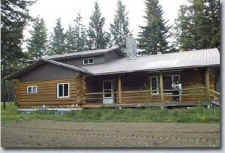 Come share our 440 acre farm and North Idaho Bed and Breakfast with us!

Cedar Mountain Farm is located midway between Coeur d'Alene and Sandpoint, Idaho just 2 1/2 miles from Highway 95 and five minutes from Silverwood Theme Park.

Skiers and summer sightseers will appreciate our proximity to Schweitzer Mountain as well as Lookout, Silver Mountain, 49 Degrees North and Mount Spokane ski areas.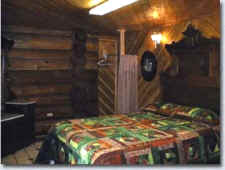 You will stay in a log dwelling we built from our own timber.


Our accommodations include two suites located in the main log house, and the bunkhouse, an authentic log cabin located next door.


Enjoy a full farm breakfast each morning. Headed for the golf course or ski slopes? We'll prepare breakfast to go, or serve you earlier.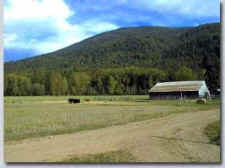 You will find plenty to do both on the farm and in the area. Our facilities appeal to individuals, families and friends, small groups, conferences, meetings, reunions, or retreats. Hayrides available seasonally.

Cedar Mountain Farm
Cedar Farm
xxx
Athol, xxxx
Phone: 208-683-0572
Toll free: (866) 683-0572
Email: Click here to send an email
Web: www.cedarmountainfarm.com


Display location on map

The J.J. Shaw House Bed and Breakfast Inn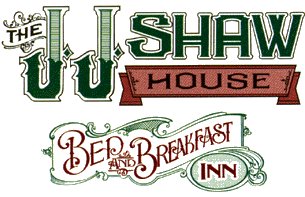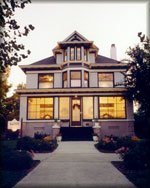 The J.J. Shaw House Bed and Breakfast Inn is Boise's quiet in-town retreat!


Located in the quiet, yet convenient Northend, J.J. Shaws is within walking distance to fine restaurants and Hyde Park. Boise State University and The Pavilion are just minutes away.


This beautiful Queen Anne Victorian home has been fully restored and is listed on the National Register of Historic Places.



A variety of living areas are available for guest use. Included is the bright, Sun Room, the Parlor with fireplace, and the Sitting Room where the player piano awaits.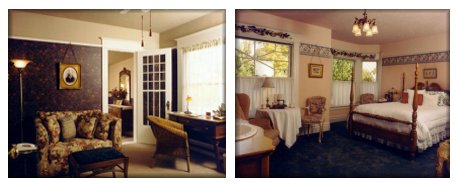 Our five beautiful guest rooms, all have private baths, phones, and air conditioning. Gourmet breakfasts and afternoon refreshments are included during your stay.

Abundant parks, bordered by the clear Boise River offer outdoor enjoyment in the very heart of the city. Enjoy rafting, fishing, cycling, and rollerblading nearby. In winter, Bogus Basin Ski Area is a wonderland for skiers, and is just 16 miles away.

The J.J. Shaw House Bed and Breakfast Inn
J.J Shaw
1411 W. Franklin St.(Downtown)
Boise, 83702
Phone: 208-344-8899
Toll free: 1-877-344-8899
Email: Click here to send an email
Web: www.jjshaw.com


Display location on map

The Roosevelt

The Roosevelt is a historic facility that takes you back to the historic elegance of the Victorian era. Once a turn of the century red brick school house, now a Victorian mansion with all the modern amenities found in top hotels combined with the warmth and hospitality of a country inn.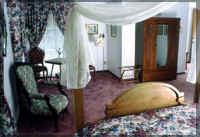 Each of our guest rooms are charmingly furnished with antiques. All of our rooms have queen-sized beds, private baths and/or showers, some rooms offer a view of the lake.


You'll enjoy a two course full breakfast each morning, 24 hour complimentary snack and beverage center in our dining facility, twice daily maid service, evening turn down service, and our signature rose greeting on arrival.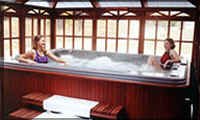 Relax in our 24 hour spa facility with the largest hot tub in town complete with sauna and massage therapist (therapist $45.00 for 60 minute in room session),


The Historic Roosevelt is located just a short walk from Coeur d'Alene Lake and the beaches and hiking trails of Tubbs Hill Nature Park.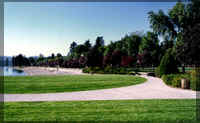 We also feature during the fall, winter and spring months our highly sought after Sherlock Holmes interactive Murder Mysteries complete with 5 course dinner.

Come experience the historic elegance and fun of The Roosevelt.

The Roosevelt
Roosevelt New
Coeur d'Alene
Coeur d'Alene, xxxxxx
Phone: 208) 765-5200
Toll free: (800) 290-3358
Email: Click here to send an email
Web: www.therooseveltinn.com


Display location on map

Mansion on the Hill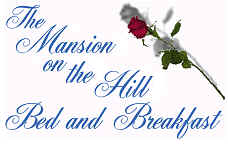 The Mansion on the Hill B&B is located in Kellogg
Idaho in the historic Silver Valley of Northern Idaho.
Come ride the world's longest gondola to the top of Silver Mountain for wonderful skiing in the winter and star light concerts in the summer. The winter also offers snowmobiling and cross-country skiing. The summer season is filled with hiking, biking and fishing.

At the Mansion on the Hill, you'll enjoy luxurious accommodations. We offer two suites and two cozy cottages, all with private baths. Each room is beautifully decorated and offers all the amenities to make your stay comfortable.

The suites, located in the main house, feature king beds and private balconies with mountain views. One of the suites also has a day bed in the sitting room, that can sleep one or two more people.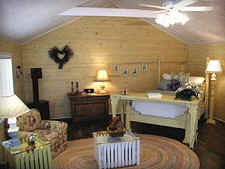 Our one bedroom cottage is a wonderful honeymoon cottage or just a great get-away for one or two. There's a queen bed, a beautiful bath with tub/shower and a private patio for your enjoyment.


The other cottage is a cozy family unit with two bedrooms, one with a queen bed, and the other with two twin beds, and a large living area. Beautiful bath with tub/shower.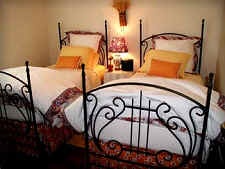 Mansion on the Hill
Mansion Hill
xx
Kellogg, xxx
Phone: (208) 786-HILL (4455)
Toll free: (877) 943-4455
Email: Click here to send an email
Web: www.mansionbnb.com


Display location on map

BlackSmith Bed & Breakfast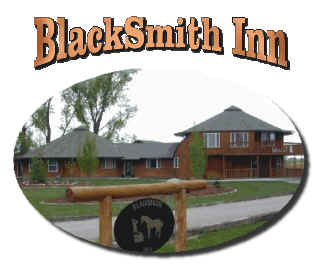 The BlackSmith Bed & Breakfast is an Inn for all seasons. We are conveniently situated within a short distance from some of the Rocky Mountain's most magnificent parks and some of best outdoor activities in Idaho, Montana and Wyoming. Minutes away are the famed blue ribbon fisheries of the South Fork and Henry's Fork Rivers.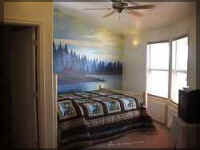 We offer five comfortable guest rooms, each with it's own individual theme, reflecting our western heritage. Room features include: private baths, queen size beds, TV/VCR, and breathtaking views.

Our spacious, comfortable common rooms include a dining/meeting room, a living room, and a cozy hot tub room.

Whether it's warm or cold outside you can always relax and enjoy our beautiful hot tub.

A delicious full breakfast is served each morning in the dining room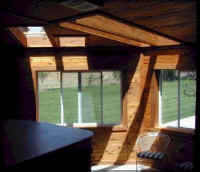 Come enjoy the outdoors with us at BlackSmith Bed and Breakfast. There's fishing, hiking, horseback riding (boarding on-site), hunting, skiing, snowmobiling and so much more!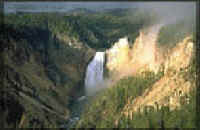 BlackSmith Bed & Breakfast
Black Smith
xxxxxx
Rigby, xxxxx
Phone: 208-745-6208
Email: Click here to send an email
Web: www.blacksmithinn.com


Display location on map

Midas Inn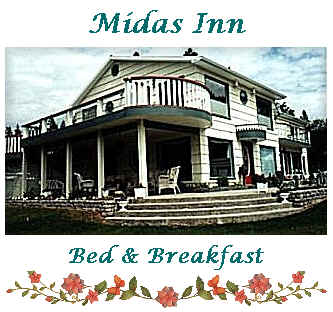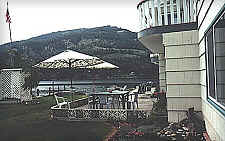 A classically distinctive Bed & Breakfast on beautiful Garfield Bay.

A scenic 9 mile drive from Highway 95, with wild turkeys and deer along the way.

Experience Breathtaking views of Lake Pend Oreille from the common areas patios, and gazebo.

Fishing, relaxation, and water sports are available at our front door.

The charming guest rooms are tastefully decorated with the theme of the lake, for your enjoyment and comfort.

Enjoy our FULL breakfasts which include gourmet to country, and brunch on Sunday, served in the dining room , or on the patio.


Midas Inn
Midas Inn
xxx
Sandpoint, xxx
Phone: xxx
Toll free: 1-877-223-4793
Email: Click here to send an email
Web: www.povn.com/midas


Display location on map