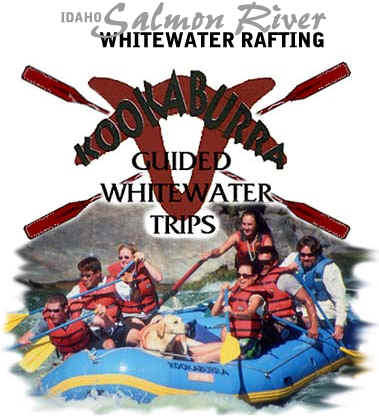 Great Adventure for the whole family!
One, Two and Three Day trips on the "Lewis & Clark Stretch"
of the Salmon River, Salmon Idaho.
f you are looking for a short get-away vacation in Idaho that has it all, consider taking a 1 - 3 day whitewater trip on the famous River of no Return, with an outfit that promotes safety, fun, adventure and growth. All meals, lodging/camping gear and shuttle to and from Salmon are included. Enjoy a free Gold Mine Tour with every trip too.



Kookaburra Guided Whitewater Trips also offers several specialty packages great for the whole family!

LEWIS & CLARK HISTORICAL RAFT & DRIVE PACKAGE, a scenic driving tour of the famous Lewis & Clark Back Country Byway one day, and a scenic float or whitewater rafting trip the next day.


RAFT & RIDE PACKAGE is two great adventures in one - horseback riding and rafting.

COWBOY POETS TRIP, a real "old West" experience on the river. Rafting during the day, then relax under the evening stars listening to poetic stories and music of the West.




FALL STEELHEAD FISHING TRIP are available in October & November when the huge (10-20 lb.) ocean matured Rainbow Trout return to their spawning grounds in Idaho, offering fishermen premier sport fishing opportunities