Located in the heart of the Daniel Boone National Forest in Kentucky lies a paradise of natural stone arches, caves, rock shelters and towering cliffs all encircling steep, forested slopes overlooking narrow stream valleys. From hiking along the largest trail system in Kentucky to rock climbing, canoeing, or mountain biking, your next Kentucky wilderness cabin vacation begins here.

Red River Gorge Cabin Rentals invites you to stay in our beautiful cabin located in the center of 3 acres. Our Honey Bear Love Cabin is right on the ridge of the mountain with a very private atmosphere. It's the perfect place to unwind. There's a swing on the back deck with a spectacular 12 mile view down the valley and an outside hot tub to relax in.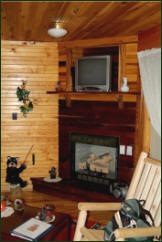 Other cabin features include: gas grill, gas fireplace, outside firepit, 3 TVs with Dish Network, Jacuzzi, telephone, microwave, and lighted walkways. Linens and towels are provided. Honey Bear Love Cabin is pet friendly.

Within a short walk of the Honey Bear is 3 lakes for plenty of fishing, swimming and exploring. Shop at the area gift and souvenir shops, sample a taste of the world's best fudge, or just relax to the sights and sounds of nature.