Click an area to view all listings.
Georgia Northern Georgia Southern Georgia
Georgia Vacation Accommodation
Paradise Cabins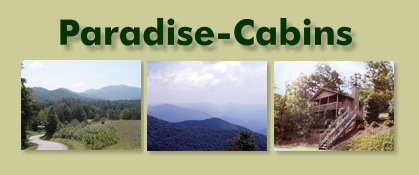 Paradise Cabins is a romantic hot tub cabin resort and spa in the Blue Ridge Mountains of Blairsville (North Georgia).

Our 20 acre property hosts 12 hot tub cabins, a reception lodge and spa, where the serenity of nature is inspiring. Ideal for romantic getaways, relaxing spa weekends, adventurous vacations, weddings, family reunions, hiking, and rafting. It's a place for all seasons that offers scenic beauty year-round.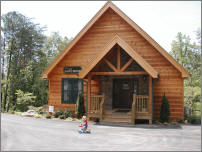 We offer four styles of cabins. The loft cabins are cozy, all wood interior, two story cabins with a queen size bed in the loft and a queen sleeper sofa bed downstairs. The other cabins have one bedroom, two bedroom, or three bedrooms.


All our cabins are beautifully furnished and have fully equipped kitchens. Features include: wood burning fireplaces, hot tubs, satellite TV with VCR, and charcoal grills outside.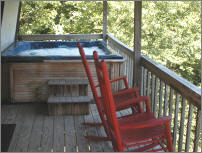 Paradise Cabins
Paradise Cabins
Paradise Rd. & Hwy 129 S.
Blairsville, xxxxxx
Phone: 706-745-7483
Email: Click here to send an email
Web: www.paradise-cabins.com


Display location on map

Villas by the Sea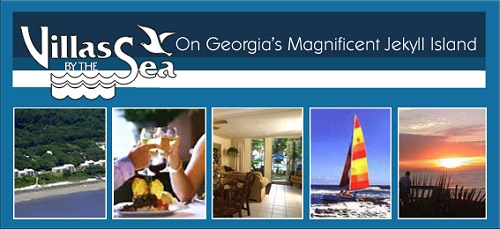 Villas by the Sea is an enchanting Oceanside Golf Resort & Conference Center on Jekyll Island, Georgia. Cradled by lush natural landscaping and towering windswept oaks, Jekyllís boardwalks lead you to uncrowded & unspoiled beaches.



On the Island, you can choose from three 18 hole and one 9 hole golf course. Carried bag or pull carts OK on all courses, every day, all the time. Inquire about our Stay 'n Play golf packages.

Villas by the Sea offers 150 spacious one, two, or three bedroom villas with completely furnished kitchens, separate living and dining areas, plus private balconies or decks, A/C, and front-door parking.



Each villa is a privately owned condominium, thoughtfully and attractively furnished. All are only a few steps from the beach and pool. Mini suites without full kitchens are also available.



In addition to the comforts of home, Villas provides a wealth of hospitality and service, including optional maid service, a laundromat, bicycle rentals, and planned activities for varied interests. Sports equipment is provided for facilities on the premises. There's a jungle-like playground for the kids and Seaside Gifts is a treat for shoppers.

Villas by the Sea
Villas Sea
1175 N. Beachview Drive
Jekyll Island, xxxxxx
Phone: (912) 635-2521
Email: Click here to send an email
Web: www.jekyllislandga.com


Display location on map

Zion Farms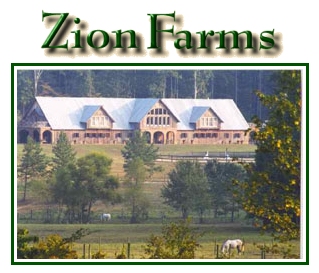 Zion Farms is located in the foothills of NW Georgia, just 1 1/2 hour drive from Atlanta and Chattanooga, and 2 hours from Birmingham.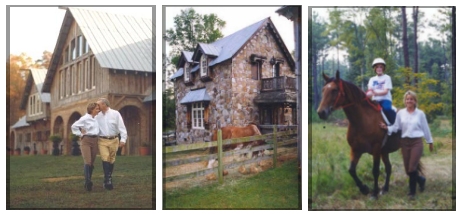 Winding mountain trails for horseback riding and hiking, luxurious private Bed and Breakfast cottages for the perfect weekend getaway, a breathtaking European style horse stable, and laid back, family atmosphere make Zion a refreshing, fun and relaxing retreat.

Our executive chef can create wonderful meals for your stay, and the cost of a night in any of Zion's B&Bs include a gourmet breakfast!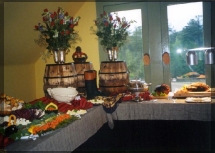 Zion offers adult weekend getaways throughout the year, and specializes in estate weddings and receptions, corporate retreats and outings, and has an Equestrian Summer Camp for children.

Zion Farms
Blair Zion Farms
2979 Big Texas Valley Rd. NW
Rome, xxxxxx
Phone: (706) 235-8002
Email: Click here to send an email
Web: www.zionfarms.com


Display location on map

Glen-Ella Springs Inn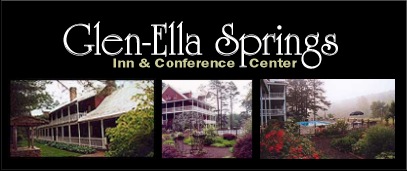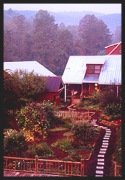 Glen-Ella Springs Inn is a special place where people come to relax and escape the stress of urban living. Located on 17 acres down a gravel road, only ninety miles northeast of Atlanta, Georgia, we offer first-class dining, and personal service in an atmosphere of casual elegance.



Glen-Ella Springs is perfectly suited for groups of all kinds. Whether it's a group of friends gathering for fun, a family reunion, a wedding, or a small meeting, our facilities are ideal.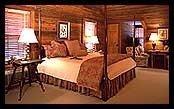 Our guest rooms are decorated in a style of rustic elegance. All rooms have private baths, telephones with voice-mail, and heating and air-conditioning. There are no TV's in the rooms, but there are two TV's on the property with full satellite connections. All rooms open onto common porches with rocking chairs.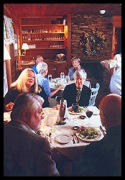 Glen-Ella Springs is widely recognized as the "best gourmet inn in the north Georgia mountains." Exceptional regional cuisine is served nightly to guests and visitors. Inn guests also enjoy a bountiful breakfast buffet daily in the dining room or on the terrace overlooking the inn's garden.


Nearby towns and historic villages offer a variety of options for lunch, as well as shopping and sightseeing opportunities. Area activities include: golf, horseback riding, hiking, fishing, canoeing, white water rafting, and more!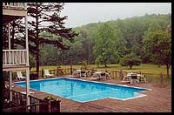 The most popular places to unwind at the Inn are in the rocking chairs on the porches in warmer weather, or a refreshing swim in our pool, or beside the fireplace in the lobby or our cozy Garden House when the temperature is cooler.



Glen-Ella Springs Inn
Glen-Ella Glen-Ella
xxxx
Clarksville, xxx
Phone: 706-754-7295
Toll free: 877-456-7527
Email: Click here to send an email
Web: www.glenella.com


Display location on map

Garden Walk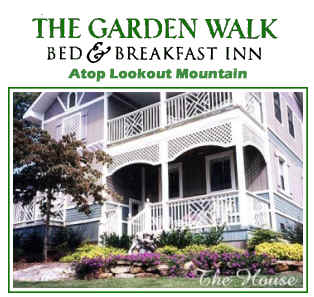 Garden Walk Bed and Breakfast Inn is just south of Chattanooga, Tennessee, and offers a quiet, peaceful atmosphere and scenic vistas from the top of Lookout Mountain.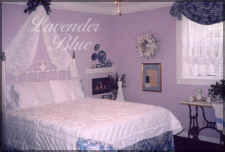 You can find romance and fantasy in "Lavender and Lace" and "Sunshine and Roses," nostalgic memories of yesterday in "Forget-me-not," or a touch of the wild west in "The Wild Rose, the best little establishment in Georgia."


You might spend a cozy fireside evening in "Enchanted April" or tucked away in "Robin's Nest." Or travel to exotic places in one of the Garden Walk's two Jacuzzi suites, "Out of Africa" and "Midnight in the Garden of Good and Evil."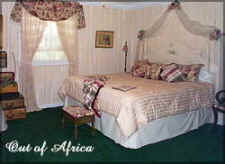 Whichever room you choose, you'll enjoy the warmth, hospitality, fantasy, and romance of the Garden Walk.



Enjoy breakfast on a bright summer morning in the fresh air of the breakfast porch, or in the cozy warmth of the winter breakfast room, when mornings are chilly.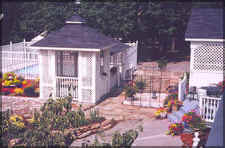 Garden Walk
Garden Walk
xxxxxxx
Lookout Mountain, xxx
Phone: (760) 820-4127
Toll free: 1-800-617-0502
Email: Click here to send an email
Web: www.gardenwalkinn.com


Display location on map

The Inn at Serenbe

The Inn at Serenbe is a romantic Bed and Breakfast by the beautiful Chattahoochee Hill Country. Come experience rural Georgia at it's most peaceful.

The Inn at Serenbe has several guest rooms and suites for you to choose from. All guest rooms are beautifully decorated and have private baths, satellite TV, and internet connection. Some rooms have whirlpool baths, kitchenettes and private sitting areas. Others have access to cozy common rooms with fireplaces and outdoor patios. Enjoy complimentary southern afternoon tea, sweets at bedtime, and a full country breakfast each morning.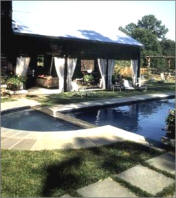 Relax in the hot tub or cabana by the pool. Visit our farm animal village where you can handfeed the cows and chickens or cuddle a piglet. Take a long morning walk in the woods. Dangle your feet in a trickling stream, or watch the sunlight dance off a sparkling waterfall. Fish from the well-stocked lake, then finish your day with a romantic moonlit canoe ride.

The Inn at Serenbe is an ideal setting for weddings, birthdays, anniversaries, family reunions, company parties or any other get together.

The Inn at Serenbe
The Inn tSerenbe
xxx
Palmetto, xxx
Phone: (770) 463-2610
Email: Click here to send an email
Web: www.serenbe.com


Display location on map

Southern Comfort Cabin Rentals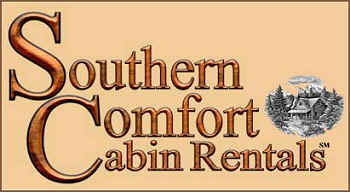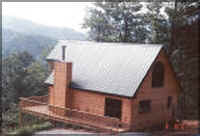 Cozy log cabins located in the Blue Ridge Mountains of North Georgia, located in Fannin, Gilmer and Union County.


outhern Comfort Cabin Rentals is your premier source for cabin rentals in the North Georgia area.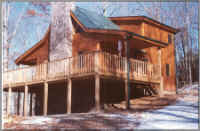 If you are looking for an escape from the never ending hustle and bustle of city life; look no further. We'll provide you with some of North Georgia's finest log cabin accommodations.


Our cabins are fully equipped and feature fantastic mountain views. hot tubs, 1 to 3 bedrooms, fireplaces, porches or decks, TVs with VCR, some with satellite dish, and more.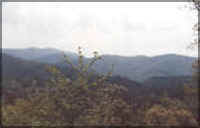 Come explore this wonderful region of North Georgia that we call home. There's fishing, boating, white water rafting, tubing, canoeing, horseback riding and hiking trails nearby.

Southern Comfort Cabin Rentals
Southern Comfort Cabin Rentals
xxx
Blue Ridge, xxxx
Phone: 1-706-258-3737
Email: Click here to send an email
Web: www.southerncomfortcabinrentals.com


Display location on map

Forrest Hills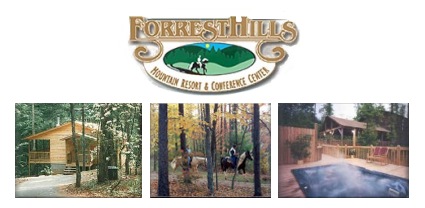 Forrest Hills is a Georgia Mountain Resort and Conference Center that sits on 140 acres and is North Georgia's perfect location for romantic getaways, family vacations, group retreats, family reunions, corporate getaways as well as weddings and receptions for two to 200.

We offer 1 and 2 bedroom cabin rentals that come complete with hot tub, fireplace, queen or king beds, kitchenette, TV/VCR, CD stereo, and covered porch w/swing. Lodge rooms and luxury bi-level suites are also available.

Come enjoy horseback riding, romantic carriage rides, a wagon ride with cookout, hiking, and more! We have an outdoor pool and sport court and a day spa offering massage therapy and many other spa services.

At Forrest Hills Mountain Resort, you will enjoy good old fashioned Southern style food with Southern style hospitality! Whether you want casual, romantic or classy, we have a dining room and menus to match. For parties of two, dinners by candle light and buffet breakfasts are served in our couples only "Secret Garden" dining room.

Forrest Hills
Forrest Hills
xxx
Dahlonega, xxx
Phone: 1-800-654-6313
Toll free: 706) 864-6456
Email: Click here to send an email
Web: www.foresths.com


Display location on map

Sliding Rock Cabins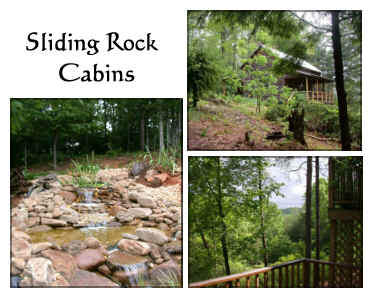 Breathtaking mountain views, deep green forests, prime trout fishing rivers, babbling creeks all await you within an easy drive from Atlanta. Sliding Rock Cabins are conveniently located in the Ellijay and Blue Ridge area.

Our cabins are beautifully decorated with your serenity and comfort in mind. Special touches include high quality bed and bath linens; whole coffee beans and grinder, specialty soaps and shampoo. Also included are hammocks, fire pits, gas grills, picnic tables, TV/VCR, stereo and telephone.

Cabins are Pet-Friendly with no pet deposits or size restrictions and include pet beds, bowls, towels, toys, and all natural treats. Non-smoking.

Sliding Rock Cabins
Sliding Rock Cabins
xxx
Ellijay, xxx
Phone: (706) 636-5895
Email: Click here to send an email
Web: www.slidingrockcabins.com


Display location on map

Americus Garden Inn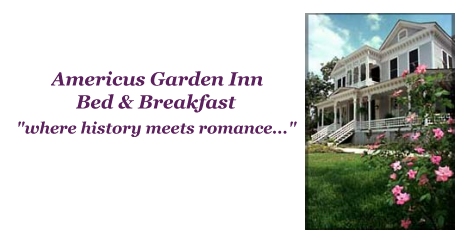 Welcome to the historic Americus Garden Inn Bed and Breakfast built before the Civil War in 1847 and located on Rees Park within the beautiful historic district of Americus, Georgia.

This hidden jewel of Southwest Georgia hosts a myriad of enlightening, educational and recreational opportunities:

Andersonville National Historic Site and National POW Museum
Andersonville Civil War Village
Jimmy Carter National Historic Site
Jimmy Carter, Nobel Peace Prize Recipient
Habitat for Humanity International
Habitat's Global Village
Rylander Theater
Georgia Southwestern State University
Boating & fishing at Lake Blackshear
3 Golf Courses

Upon entering the romantic, historic Americus Garden Inn allow yourself to be transported to a simpler time of simple pleasures: the aroma of fresh baked breads, muffins or biscotti, the sound of live piano music emanating from the parlor, freshly ground gourmet coffee, quiet time on the swing in the gazebo.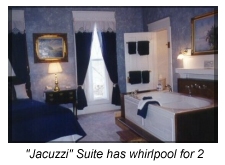 You will enjoy warm hospitality, personal service and comfortable surroundings creating your oasis from everyday cares.

Whether for business, vacation or a romantic getaway, you will find the perfect accommodations at the Americus Garden Inn. We look forward to meeting you in the near future.

Americus Garden Inn
Americus Garden Inn
xxx
Americus, xxx
Phone: (229) 931-0122
Toll free: (888) 758-4749
Email: Click here to send an email
Web: www.americusgardeninn.com


Display location on map

Creekside Hideaway

Creekside Hideaway is a Georgian Country Bed and Breakfast with an "old time flair" nestled in the beautiful northeast Georgia Mountains. Come enjoy the calm, fresh air of Young Harris, Georgia, the "front porch" of the Blue Ridge Mountains, while enjoying the sounds of the rambling creek.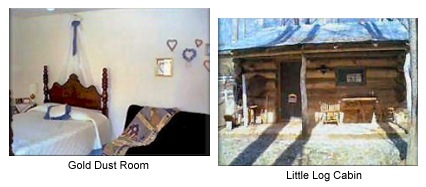 Creekside Hideaway Bed & Breakfast offers beautiful guest rooms, a guest house with all the comforts of home, and a cozy romantic log cabin.
Features include: private outside entrances, private baths, outdoor gazebo hot tub, indoor jetted bathtub, cable TV/VCRs, and coffee makers.

Enjoy a gourmet breakfast in the dining room, out of the deck overlooking the creek, or spoil yourself and have breakfast in bed.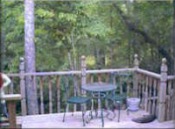 Features include: private outside entrances, private baths, outdoor gazebo hot tub, indoor jetted bathtub, cable TV/VCRs, and coffee makers.

Enjoy a gourmet breakfast in the dining room, out of the deck overlooking the creek, or spoil yourself and have breakfast in bed.

Our Romantics Getaways Special includes a private romantic candlelit dinner with soft music, fresh flowers, a keepsake gift, and some non-alcoholic "bubbly" (or bring your own). After dinner, lounge in the gazebo hot tub with your evening dessert - purrrfect under the stars.

Creekside Hideaway
Creekside Hideaway
xxx
Blue Ridge, xxx
Phone: (706) 379-1509
Toll free: 1-888-88CREEK(27335)
Email: Click here to send an email
Web: www.creeksidehideaway.com


Display location on map

Savannah Beach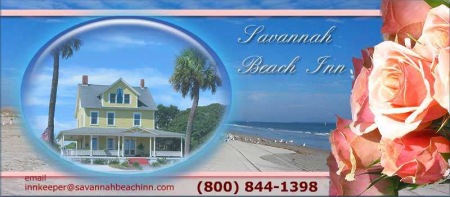 Located on Tybee Island, Savannah Georgia, the Savannah Beach Bed and Breakfast Inn offers a warm Victorian welcome. The inn, the island and the beach was meant for relaxation. Peaceful, quiet and away from the tourists. Listen to the ocean on the porch swing. Close your eyes and relax.

Our guest rooms are beautifully decorated and feature antique furnishings, king or queen beds, private baths, fireplaces, DSL, DVD, and splendid ocean views. We offer free wine, beer and bottled drinks, DVD's, books to read, and other niceties to keep you at ease. Enjoy delicious breakfasts and our old fashioned southern hospitality.

Just outside is the long inviting beach, and next door the lighthouse. Take a stroll on the beach. Dine on island seafood. Explore the island, or just relax with a glass of wine on the front porch and take in the sea breezes.

Savannah Beach
Savannah Beach
xxx
Savannah, xxx
Phone: (912) 786-0396
Toll free: (800) 844-1398
Email: Click here to send an email
Web: www.savannahbeachinn.com


Display location on map