Click an area to view all listings.
Georgia Northern Georgia Southern Georgia
Georgia Vacation Accommodation
Paradise Cabins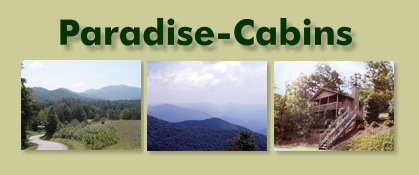 Paradise Cabins is a romantic hot tub cabin resort and spa in the Blue Ridge Mountains of Blairsville (North Georgia).

Our 20 acre property hosts 12 hot tub cabins, a reception lodge and spa, where the serenity of nature is inspiring. Ideal for romantic getaways, relaxing spa weekends, adventurous vacations, weddings, family reunions, hiking, and rafting. It's a place for all seasons that offers scenic beauty year-round.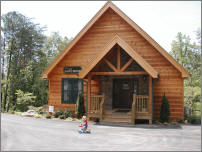 We offer four styles of cabins. The loft cabins are cozy, all wood interior, two story cabins with a queen size bed in the loft and a queen sleeper sofa bed downstairs. The other cabins have one bedroom, two bedroom, or three bedrooms.


All our cabins are beautifully furnished and have fully equipped kitchens. Features include: wood burning fireplaces, hot tubs, satellite TV with VCR, and charcoal grills outside.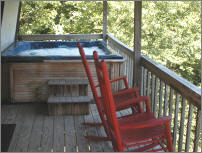 Paradise Cabins
Paradise Cabins
Paradise Rd. & Hwy 129 S.
Blairsville, xxxxxx
Phone: 706-745-7483
Email: Click here to send an email
Web: www.paradise-cabins.com


Display location on map

Zion Farms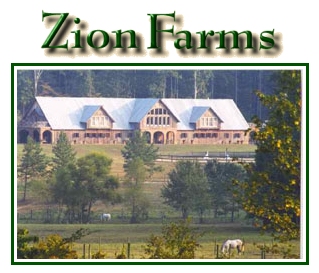 Zion Farms is located in the foothills of NW Georgia, just 1 1/2 hour drive from Atlanta and Chattanooga, and 2 hours from Birmingham.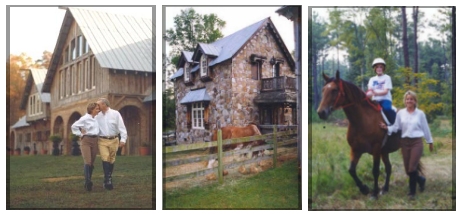 Winding mountain trails for horseback riding and hiking, luxurious private Bed and Breakfast cottages for the perfect weekend getaway, a breathtaking European style horse stable, and laid back, family atmosphere make Zion a refreshing, fun and relaxing retreat.

Our executive chef can create wonderful meals for your stay, and the cost of a night in any of Zion's B&Bs include a gourmet breakfast!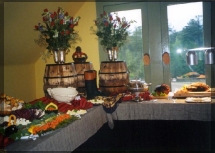 Zion offers adult weekend getaways throughout the year, and specializes in estate weddings and receptions, corporate retreats and outings, and has an Equestrian Summer Camp for children.

Zion Farms
Blair Zion Farms
2979 Big Texas Valley Rd. NW
Rome, xxxxxx
Phone: (706) 235-8002
Email: Click here to send an email
Web: www.zionfarms.com


Display location on map

Southern Comfort Cabin Rentals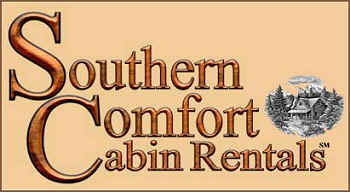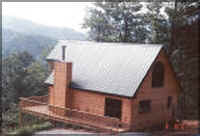 Cozy log cabins located in the Blue Ridge Mountains of North Georgia, located in Fannin, Gilmer and Union County.


outhern Comfort Cabin Rentals is your premier source for cabin rentals in the North Georgia area.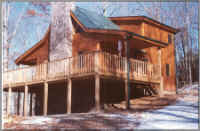 If you are looking for an escape from the never ending hustle and bustle of city life; look no further. We'll provide you with some of North Georgia's finest log cabin accommodations.


Our cabins are fully equipped and feature fantastic mountain views. hot tubs, 1 to 3 bedrooms, fireplaces, porches or decks, TVs with VCR, some with satellite dish, and more.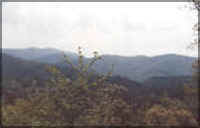 Come explore this wonderful region of North Georgia that we call home. There's fishing, boating, white water rafting, tubing, canoeing, horseback riding and hiking trails nearby.

Southern Comfort Cabin Rentals
Southern Comfort Cabin Rentals
xxx
Blue Ridge, xxxx
Phone: 1-706-258-3737
Email: Click here to send an email
Web: www.southerncomfortcabinrentals.com


Display location on map

Forrest Hills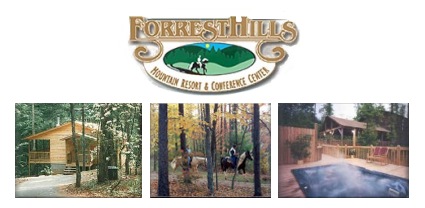 Forrest Hills is a Georgia Mountain Resort and Conference Center that sits on 140 acres and is North Georgia's perfect location for romantic getaways, family vacations, group retreats, family reunions, corporate getaways as well as weddings and receptions for two to 200.

We offer 1 and 2 bedroom cabin rentals that come complete with hot tub, fireplace, queen or king beds, kitchenette, TV/VCR, CD stereo, and covered porch w/swing. Lodge rooms and luxury bi-level suites are also available.

Come enjoy horseback riding, romantic carriage rides, a wagon ride with cookout, hiking, and more! We have an outdoor pool and sport court and a day spa offering massage therapy and many other spa services.

At Forrest Hills Mountain Resort, you will enjoy good old fashioned Southern style food with Southern style hospitality! Whether you want casual, romantic or classy, we have a dining room and menus to match. For parties of two, dinners by candle light and buffet breakfasts are served in our couples only "Secret Garden" dining room.

Forrest Hills
Forrest Hills
xxx
Dahlonega, xxx
Phone: 1-800-654-6313
Toll free: 706) 864-6456
Email: Click here to send an email
Web: www.foresths.com


Display location on map

Sliding Rock Cabins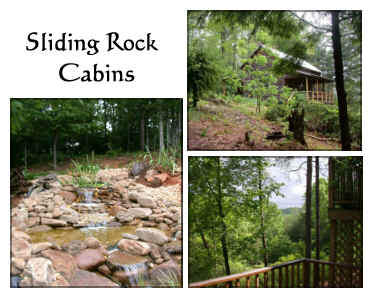 Breathtaking mountain views, deep green forests, prime trout fishing rivers, babbling creeks all await you within an easy drive from Atlanta. Sliding Rock Cabins are conveniently located in the Ellijay and Blue Ridge area.

Our cabins are beautifully decorated with your serenity and comfort in mind. Special touches include high quality bed and bath linens; whole coffee beans and grinder, specialty soaps and shampoo. Also included are hammocks, fire pits, gas grills, picnic tables, TV/VCR, stereo and telephone.

Cabins are Pet-Friendly with no pet deposits or size restrictions and include pet beds, bowls, towels, toys, and all natural treats. Non-smoking.

Sliding Rock Cabins
Sliding Rock Cabins
xxx
Ellijay, xxx
Phone: (706) 636-5895
Email: Click here to send an email
Web: www.slidingrockcabins.com


Display location on map

Creekside Hideaway

Creekside Hideaway is a Georgian Country Bed and Breakfast with an "old time flair" nestled in the beautiful northeast Georgia Mountains. Come enjoy the calm, fresh air of Young Harris, Georgia, the "front porch" of the Blue Ridge Mountains, while enjoying the sounds of the rambling creek.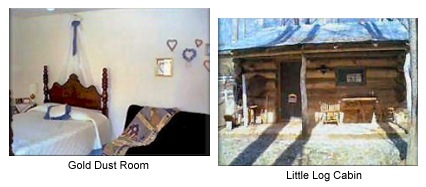 Creekside Hideaway Bed & Breakfast offers beautiful guest rooms, a guest house with all the comforts of home, and a cozy romantic log cabin.
Features include: private outside entrances, private baths, outdoor gazebo hot tub, indoor jetted bathtub, cable TV/VCRs, and coffee makers.

Enjoy a gourmet breakfast in the dining room, out of the deck overlooking the creek, or spoil yourself and have breakfast in bed.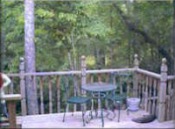 Features include: private outside entrances, private baths, outdoor gazebo hot tub, indoor jetted bathtub, cable TV/VCRs, and coffee makers.

Enjoy a gourmet breakfast in the dining room, out of the deck overlooking the creek, or spoil yourself and have breakfast in bed.

Our Romantics Getaways Special includes a private romantic candlelit dinner with soft music, fresh flowers, a keepsake gift, and some non-alcoholic "bubbly" (or bring your own). After dinner, lounge in the gazebo hot tub with your evening dessert - purrrfect under the stars.

Creekside Hideaway
Creekside Hideaway
xxx
Blue Ridge, xxx
Phone: (706) 379-1509
Toll free: 1-888-88CREEK(27335)
Email: Click here to send an email
Web: www.creeksidehideaway.com


Display location on map